One of the new buttons Coach Jerry Slocum has to press this year is named Blake Allen.  The Blake Allen button is versatile in the sense that it can start, come off the bench, shoot, score, pass, rebound, and play defense.  Just a sophomore, Allen has been turning heads as YSU's most consistent scorer over the past couple of weeks.  He has a good attitude, is enjoying the college experience, and can hoop with the best of them.  Along with his roommates Devonte Maymon, DuShawn Brooks, and Tre Brewer, the future looks a little brighter than the past for Youngstown State fans.
Paneech: Last year this team was harder to watch.  With only three returning players, it is almost a whole new group.  You guys are, for the most part, competitive.  What's the team feeling these days?
Allen: I think we gel as a team.  Guys genuinely like each other on and off of the court.  That has been a big part of this group and an important part of building the trust factor within this group.
Paneech: What factors have given you more minutes, and what have you done to maximize the opportunity?
Allen: I just tried to always work hard at practice and to take advantage of any opportunity that I was given.  I try to stay at the gym as much as possible.  It was difficult early on to adjust to the Division-I style, but I think I have come along and am playing as hard as I can trying to help the team win.
Paneech: Familiarize the Youngstown State fans with Blake Allen, tell everyone how you got here.
Allen: Out of high school, I went to a prep school in Virginia and last year I went to a community college in Oklahoma.  I am from Tampa, Florida.  (Laughs)  I'm still adjusting to this weather.  Virginia and Oklahoma were both colder than what I was use to, but it snows a little more out here.  I try to stay bundled up.
Paneech: You have had an array of coaches throughout your upbringing to get to this point.  Have you ever had one like Coach Slocum?
Allen: He is definitely a very good coach.  He has a very sophisticated offense that gets our guys as many shots and opportunities as possible.  The offense is very well set to make plays.  I have really enjoyed playing for him so far.  He definitely has a sense of humor, but when the game is going, he only cares about getting 40 solid minutes from the team.
Paneech: How do you like Youngstown the community, and Youngstown State the college?
Allen: I like the area and the people have treated me really well.  The school part is very challenging.  It is a lot to keep up with all of the schoolwork, especially during the season with practices, traveling, and distractions.  I think I have been able to adjust to that as well, I was satisfied with my first semester and hope I can maintain that over the time that I am here.  It gets tough, but I wouldn't have it any other way.  I'm an accounting major.  I like numbers and my aunt is an accountant, so I'm interested.
Paneech: Who are you closest with and what do you guys do when you get some spare time?
Allen: I'm really close with all of my roommates – Devonte [Maymon], DB [DuShawn Brooks], and Tre [Brewer].  We hang out quite a bit, and I am pretty good friends with all three.
Paneech: What goes through your head when you hit the floor at North Carolina State?
Allen: That game was a memorable one for me because it was actually my first start.  I was a little bit nervous, but I just told myself to go out there and play as hard as I possibly can and to let everything that I have done for preparation up to that point take over.  It was definitely the biggest crowd I have ever played in front of.  I had thoughts like "wow" early in the game, but once you get out there and start playing, it's just basketball and they are humans, just like we are.
Paneech: Do you have a favorite team or player?
Allen: I love the Los Angeles Lakers, I am a huge Kobe Bryant fan.  Being from Florida, I kind of grew up an Orlando Magic fan.  The whole Shaq and Penny thing was going on when I was a kid, but I switched over to LA.  I also watch the Tampa Bay Buccaneers and I watch tennis sometimes.
One Word Answers
Favorite TV Show: The Game.
Favorite Movie Ever: American Gangster.
Your Order At Taco Bell: Five crunchy tacos and a Baja Blast.
Favorite All-Time Football Player: Mike Alstott.
Favorite Drink: Hawaiian Punch.
Song On Your ipod That People Wouldn't Think: My Gospel tracks.
What's Worse, Doctor or Dentist? Dentist.
Favorite Cartoon Character: Scooby Doo.
Toppings On a Pizza: Pepperoni.
Name The Other Cast Members Besides Scooby: (laughs) Fred, Shaggy, Velma, and the other one…  Daffney I think?
If this YSU group that Slocum has assembled can stay together for the next few years, expect more wins and dare I say competing for championships.  Blake Allen has the mindset to be a key component in the development of a very young team and has some fire power around him to ride the wave of the ascent.
In some stunning news, LeBron James revealed that he will join the Big 12 Athletic Conference and sidestep the Harlem Globetrotters, for now.  James has been debating what to do with his future and the Cavs don't seem to be extending any olive branches.
I still feel as though LeBron will remain a Cavalier, but the firings of Mike Brown and Danny Ferry and the fact that management has declared that Tom Izzo got an interview without James' permission indicate stupidity.
How can Mike Brown go from being the NBA Coach of The Year in 2009 to being in the unemployment line in 2010?  Sure, my Aunt Mary could probably coach that team and win 45 games, but why make a scapegoat out of a guy who obviously was put there to do what LeBron wanted?
Danny Ferry being dismissed makes some sense.  Building around LeBron James has been a huge failure for him and his last shot again produced nothing.  Mo Williams is decent, but other than that, Ferry has laid a goose egg.  Shaq is eligible for Social Security next year and Delonte West is a head case, to put it mildly.  LeBron needs a co-star, a Garnett, a Bosh, or a Wade, because he will remain the player that needs to be shut down for the opponent to have a chance at winning.
Granted, there are not that many guys who I would want to have the ball more than James late in a ballgame.  However, when teams collapse on him and he kicks the ball out to wide open players who can't hit shots, there is a problem.
If Izzo comes, and LeBron stays, which seem to have to go hand-in-hand, this team needs a makeover from the top down.  The only player I might keep is J J Hickson. He has an upside and is still developing.  Every other current Cavs roster spot is either filled by someone who was once great, or by someone else who was supposed to be great. Nobody, other than James, that plays hoops in Cleveland is even close to great, not right now.
Wow, time for college hoops again!  Who will make it to this years March Madness?  Can Youngstown State pop through and use all of that experience?  Will the five teams YSU plays that were in last years tourney get back in?  Will Xavier run the table this year?  Will Coppin State get blown out in the first round like they do every other year?  Will Pitt have enough in the paint?  Stay tuned, it all starts this week.
Here are some stories from other great sites:
Kids play with toy guns and are taught to disregard greetings from strangers at an early age.  Life is working backwards on Delonte West.  Real guns and a bipolar disorder are now things that stand in the way of a player coming off of his best season ever. 
The Cleveland Cavaliers are having chemistry issues right now.  The team is competitive but already losers in three of their games.  The arrival of Shaq and Anthony Parker, the departure of Ben Wallace, the pressure on LeBron James to win a ring,  and of course the unpredictable behavior of Delonte West.
West is coming off of his best season as a pro basketball player.  However, one recalls him going off on a ref during a preseason game last season which forced the team to seek help for West.  West agreed to medical attention and was treated for the erratic behavior.  Officials are saying an emotional disturbance is what triggered Delonte's latest run at bad behavior.
Last year, West had a problem with paranoia, always thinking that people were against him.  He was often late arriving on days of games and the Cavs were almost forced to hide the information from the media because of the diagnosis fearing West would become worse as a result of negative perception.
Riding a motorcycle is something that West is not allowed to do under his current contract.  Riding a motorcycle with a host of loaded weapons is probably not included in the contract limitations, but common sense would tell you that must be a bad thing.  West also faced marijuana possession charges in Maryland when the Cavs worked out a new contract.
Message to Danny Ferry and the gang:  It is nice that you guys bent over backwards to help Delonte overcome his personal issues.  A second chance is something every human deserves.  However, Mr. West is now on his fifth chance, this time the negative publicity is on him, and you can no longer shield his goofy behavior.  Check his guitar case next time he brings it to practice, what's inside could kill you or someone else who does not deserve to die.
Message to Delonte West:  Hey bud, I know you are going through some tough times.  Anyone who makes more than a million dollars a year has my sympathy.  Do you think you might like to hunt?  My buddy here has some farm land you could scour and I got his ok on it.  Please start taking your meds and listening to the shrinks advice this time.  You are not only endangering yourself, but also the chances of a very good basketball team succeeding this season.  If it gets to be too much, walk away.  Take a break and get your act together.  Go find a guy under a bridge who will provide you with so many answers without you having to ask a single question.
It is still early enough in the young NBA season for Cleveland to decide what to do with Delonte West.  Ignoring the problems or shielding him is obviously not the answer anymore.
Two great players on one team.  Two accomplished athletes who love to compete, but love to win more.  Two guys with one goal, to bring an NBA Championship to Cleveland.  If last night was any indicator, two guys have their work cut out.  The Cavs started the game on a positive note.  They were finishing, Anthony Parker looked like the right peg for the vacant hole, and for a moment, I believed that the two men pictured would be able to carry the rest of the load.  Unfortunately, the Cavs fell into 'predictable' mode in the second half and played like they did against Orlando in last years postseason.  It's one game, I won't kick and scream yet, but changes must be made to the offense.  Boston 95, Cleveland 89. 
Here are some stories from other great sites:
What a horrible year Cleveland Sports fans have had to endure.  The Cavs could have done better.  The Indians started and are ending the season with disgraceful heartless performances.  The Browns are lucky if they win six games this season.  When will it end?  Doesn't matter what team or season, the result for over 50 years has been disappointment. 
I applaud Cleveland fans for hanging in there and staying true to the teams they root for.  However, after attending a recent Indians game with about 25% of the stands at Progressive Field full, I have to wonder when fans will get disgusted enough to either switch teams or just put Cleveland sports as a whole on the back burner.  Again, there are diehards, but Chicago has tasted victory with the Bears, Detroit with the Pistons, Boston with the Patriots and Red Sox, etc… 
Let me start my story with the team that provides the greatest chance of winning something soon – the Cavs.  With the recent addition of Shaq and departure of Ben Wallace one of two things can happen.  1)  Everything will click, no one will be injured, and the Cavs will make a strong showing for an NBA Championship.  OR.. 2) Shaq will only play about half the year putting LeBron James back into the 'I have to do it all myself'  mode, or worse yet, James could get injured.  I still argue that he isn't going anywhere at the end of the season, but watch how that debate rages through the entire season and playoffs and becomes a bigger issue than the Cavs actually winning.
Move to baseball.  Eric Wedge should have been fired on Memorial Day or shortly after.  Wedge's admitted pal and BFF Mark Shapiro stuck his neck out for Wedge to at least be given the end of the season to present his capabilities as a manager.  He has failed to do so.  Shapiro traded Cliff Lee to Philadelphia this season, even though he had another year on his contract, for pitching prospects like Carlos Carrasco (0-2, 9.64 ERA).  Last year CC Sabathia was pushed away instead of being offered a new contract and he didn't do too bad in Milwaukee.  Both guys (Shapiro and Wedge) need to go and a true rebuilding process needs to take place, otherwise expect more Pirate-like boneheaded moves followed up by the financial weeping of a money-hungry front office. 
Question: Brady Quinn or Derek Anderson?   Answer: Neither.   Browns fans are truly some of the most loyal people who follow sports.  The defense looked rather good in the first half against Minnesota in the opener.  In the second half, they looked dismal.  There is no consistency on this team.  They will jump up and win a few games, they always manage to do that much.  The problem at quarterback is not the individuals who play that position.  Quinn OR Anderson will be running for their lives as the line is still weak.  When they do have time, who do they throw to?  Braylon 'drop 'em' Edwards?  Josh 'Wildcat' Cribbs?  They need help at receiver bad.  Cribbs running the Wildcat Offense on Minnesota's two-yard line was comical, for two plays.  Drew Brees would struggle with this team.
Sorry Cleveland fans.  Mad respect for the loyalty to these three franchises, but if the Cavs don't do it this year it's gonna be awhile longer in any sport.
Please comment if you think I am right or wrong, I am anxious to hear what others think about this.
How sad is this photo to Indians fans?  Cliff Lee is gone but not forgotten.  He is tearing up the National League, much like CC Sabathia did when the Indians decided to play flea market last season.  Lee is 6-0 and his ERA is under 1.00.  I laugh at the Indians fans who told me a month or so ago that Lee was not as good as billed while in Cleveland.  With just over a month left in the regular season, he might end up with more wins than any American League starter, in less than half of the starts.
Here are some great stories from other sites:
The newest gimmick to boost ratings on Monday Night Raw is to have a guest host who will serve as an on-air commissioner, matchmaker, and celebrity presence.  This week's guest host is Shaquille O'Neal.  I got to thinking about some people who would want to run with the ball in this capacity and have designed a Top 10 list of potential hosts.
#1 Dana White
Dana White would be my choice for #1 guest host.  After what Brock Lesnar did at UFC 100 proves that anyone can leave the WWE, but the WWE never leaves anyone who was there.  There could be some real heat to have White come out and blame McMahon for all Lesnar said and did.
#2 Don King
Don King is one of the most unliked sports promoters ever.  Wouldn't it be great to see King in the WWE?  He could come out to some grand entrance, run his mouth for about ten minutes while trying to use as many three or more syllable words as often as possible.  Would be great TV!
#3 Howard Stern
The self-proclaimed "King of All Media", Howard Stern, would be a great choice for McMahon.  Not only will he draw huge numbers in viewership, but he will talk about it on the air for four weeks in between Robin Quivers G-Cups and Artie Lange's DUI.  Any Stern fan knows that the show still rocks but that Howard has mellowed a bit through the years.  What better opportunity to regain his edge.
#4 Joseph Jackson
Another guy who can chirp to the masses under any circumstances is Joseph Jackson.  Maybe the WWE will install a segment where the loser gets beat with Joseph's belt if he loses.  They could even take five random wrestlers and have Joseph whip them into shape to perform a Jackson 5 classic at the end of Raw.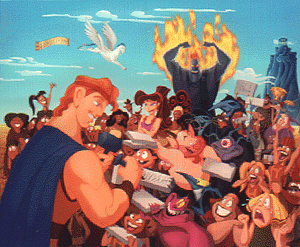 #5 Hercules
The original steroid abuser, Hercules, can teach the boys a few things about rationing the supply to get past the age of 40.  He could also beat up anyone on the Raw roster who will not comply.  Hercules was a McMahon if you do the geneology correctly.
#6 Michael Phelps
Who better to pass the bong with than Phelps?  The WWE is notorious for their wild drug abusing personalities.  I could see Randy Orton and Jeff Hardy lighting one up under the ramp before a main event.  It wouldn't hurt their careers any.  Look at what hanging out with Michael Phelps did for the career of Braylon Edwards (17 drops in 2008, led the league).
#7 Erin Andrews
Erin Andrews is currently living out her WWE fantasies muired in controversy.  The peephole video was nothing.  When Andrews gets her opportunity to be the guest host of Raw, she will surely go over the edge to get the heat off of that silly internet video which has recently surfaced.  She will face Steven A. Smith in a steel cage match filled with racial overtones, wardrobe malfunctions, and guest referee Joe Namath.  Can you imagine the numbers?
#8 Donte' Stallworth
Stallworth would probably do the WWE hosting gig for a dollar.  The reason I say a dollar is because it is income considered work so he can leave the house.  Of course, arranging for transportation and the post party are thing Vince McMahon will have to iron out.
#9 President Barack Obama
Seriously, how cool would it be for our President of The United States to host a wrestling program?  Obama has already proven that he is a normal guy to an extent and he does television appearances frequently.  This may be the most accurate guess on the whole list.  Don't be suprised!
#10 Charles Barkley
Barkley would be a perfect fit for the WWE.  Never short on opinion or the cockeyed reasoning to back up his opinions, Sir Charles could feud with Jim Ross and the rest of the announcers about the way they handle the mic.  It would be a monumental Raw to see Barkley calling the shots. 
Maybe the Cavs will sign Curly Neal too.  We know he could handle the ball, he shoots better than Ben Wallace did, and at the ripe age of 58, he would bring more experience and a great winning percentage to Cleveland.  You know I'm just kidding…   Here are some other great stories: 
Michael Phelps cleaned house at the ESPY's.  I agreed with most of his wins, it isn't often that someone wins eight gold medals.  Anyway, lots of ESPY coverage as well as many other great stories: