Posts Tagged 'Cleveland Cavaliers'
Being geographically close to Cleveland, I feel bad for my fellow sports fans who root for Cleveland teams.  Admittedly, I am a Cavs fan and will continue to root for the team with a shiny new record for most NBA losses in a row with 26. The overall compilation of these three teams has produced zero championships in 50 plus years in any of their respective sports.  Certain towns (Cubs fans, turn your heads), have a team who hasn't won anything over a longer time span, but collectively, the Browns, Indians, and Cavs comprise the worst trifecta of a regional sports market that currently exists.
Let's start with the oldest, the Cleveland Indians.  The Indians won a World Series in 1920 then had to wait 28 years to get another.  This is when there were no more than 20 teams in the league and the odds of winning were greater.  The 1954 Indians, who won a then-record, 111 games, failed to complete the mission and are simply a highlight of a Willie Mays running over-the-shoulder catch.  Did this start the futility on the diamond?  In 1995, with a start studded lineup and a brand new stadium, the Indians drew large crowds and won games, but no trophies or flags.  Nowadays they are playing the Pittsburgh Pirates price is right.  Dump Cliff Lee, Victor Martinez, etc. but make some scratch.
Brad Daugherty, Mark Price, and Larry Nance were the nucleus of some of the best Cavs teams of the late eighties and early nineties.  Unfortunately, as Craig Ehlo can testify, they played during the Michael Jordan Era.  We all know about Lebron James and the "decision" he made.   Before his decision, he got Cleveland into the 2007 NBA Finals to play San Antonio.  It was big progress for a franchise that never won.  Now that James is wearing a Heat uniform and playing with two All-Stars and his former supporting cast starring Anderson Varajeo and Antwan Jamison has set the NBA standard for consecutive losses, did he still do the wrong thing?  Or was he that good?  I think he was.  His supporting cast sucked, and still do.  The guy wanted to win a championship, not babysit Delonte West or teach JJ Hickson how to dribble.
Then there are the Browns.  Always a good supporting cast, but no stars, and Phil Dawson may have his own "decision" show on the deuce here pretty quick.  Granted, Art Modell is a hated man in Cleveland and rightfully so.  However, the drafting and coaching since Palmer took over in 1998 for the return season have been awful.  Butch Davis? Wow. The worst part is that Browns fans have argued with anyone who questions the ability of a hired hand in Cleveland.  Draft Day is a mess too. Hopefully the Browns can pick something other than a new season ticket package offering reduced ticket prices for 2011.
The one constant that amazes me is the fan support of all three teams.  Hats off to Cleveland sports fans for remaining some of the most loyal people who root for a team.
In some stunning news, LeBron James revealed that he will join the Big 12 Athletic Conference and sidestep the Harlem Globetrotters, for now.  James has been debating what to do with his future and the Cavs don't seem to be extending any olive branches.
I still feel as though LeBron will remain a Cavalier, but the firings of Mike Brown and Danny Ferry and the fact that management has declared that Tom Izzo got an interview without James' permission indicate stupidity.
How can Mike Brown go from being the NBA Coach of The Year in 2009 to being in the unemployment line in 2010?  Sure, my Aunt Mary could probably coach that team and win 45 games, but why make a scapegoat out of a guy who obviously was put there to do what LeBron wanted?
Danny Ferry being dismissed makes some sense.  Building around LeBron James has been a huge failure for him and his last shot again produced nothing.  Mo Williams is decent, but other than that, Ferry has laid a goose egg.  Shaq is eligible for Social Security next year and Delonte West is a head case, to put it mildly.  LeBron needs a co-star, a Garnett, a Bosh, or a Wade, because he will remain the player that needs to be shut down for the opponent to have a chance at winning.
Granted, there are not that many guys who I would want to have the ball more than James late in a ballgame.  However, when teams collapse on him and he kicks the ball out to wide open players who can't hit shots, there is a problem.
If Izzo comes, and LeBron stays, which seem to have to go hand-in-hand, this team needs a makeover from the top down.  The only player I might keep is J J Hickson. He has an upside and is still developing.  Every other current Cavs roster spot is either filled by someone who was once great, or by someone else who was supposed to be great. Nobody, other than James, that plays hoops in Cleveland is even close to great, not right now.
The New York Knicks have reported record season ticket activity for next season based on the hype alone.  For the past couple of seasons, LeBron James has been in the rumor mill as going to New York when his contract expires at season's end.
The good news for Knicks fans anticipating the big move is that you will get to see LeBron play in Madison Square Garden next season.  The bad news is that he will still be wearing a Cavs uniform and you paid too much for those couple of games.  The newly crowned MVP will stay put.
The Jets stepped it up in the offseason, doing Yankee-like things that New Yorkers have grown to expect.  Now the people want a basketball team to spend a fortune too.  You can afford LeBron, but he is home where he sits now.  It's his backyard and his friends and family can drive less than an hour to watch.  All the hype about a number switch as of late has barely been mentioned in Knicks conversations, has anyone who did any of the junk photoshop stuff try to use the number six?
The Cavs hold a 1-0 lead over Boston in their current quest to get "The King" a ring.  New York fans are Cleveland fans, for now.  When this supposed deal never takes place, LeBron will be booed from the Eastern end of the Bronx through Manhatten, and he will probably enjoy it.  Click your red Nike's together three times and repeat after me… 'There's No Place Like Home.'
Poor Zydrunas Ilgauskas.  "Coach Of The Year" Mike Brown, aka LeBron's ventriloquist puppet, showed poor common sense when he failed to put Big Z on the court against Dallas on Saturday.  Ilgauskas is set to break the franchise record for games played by a Cavalier.  LeBron spouted off about it saying that Brown should have gotten him into the game.  Brown, of course, is defending not playing Ilgauskas saying that Dallas was shorter and quicker and he needed to match 'em up that way.  When did Shaq start running a 4.5 40-yard dash?  Boo Mike Brown.  Boo.
Here are some stories from other great sites:
Kids play with toy guns and are taught to disregard greetings from strangers at an early age.  Life is working backwards on Delonte West.  Real guns and a bipolar disorder are now things that stand in the way of a player coming off of his best season ever. 
The Cleveland Cavaliers are having chemistry issues right now.  The team is competitive but already losers in three of their games.  The arrival of Shaq and Anthony Parker, the departure of Ben Wallace, the pressure on LeBron James to win a ring,  and of course the unpredictable behavior of Delonte West.
West is coming off of his best season as a pro basketball player.  However, one recalls him going off on a ref during a preseason game last season which forced the team to seek help for West.  West agreed to medical attention and was treated for the erratic behavior.  Officials are saying an emotional disturbance is what triggered Delonte's latest run at bad behavior.
Last year, West had a problem with paranoia, always thinking that people were against him.  He was often late arriving on days of games and the Cavs were almost forced to hide the information from the media because of the diagnosis fearing West would become worse as a result of negative perception.
Riding a motorcycle is something that West is not allowed to do under his current contract.  Riding a motorcycle with a host of loaded weapons is probably not included in the contract limitations, but common sense would tell you that must be a bad thing.  West also faced marijuana possession charges in Maryland when the Cavs worked out a new contract.
Message to Danny Ferry and the gang:  It is nice that you guys bent over backwards to help Delonte overcome his personal issues.  A second chance is something every human deserves.  However, Mr. West is now on his fifth chance, this time the negative publicity is on him, and you can no longer shield his goofy behavior.  Check his guitar case next time he brings it to practice, what's inside could kill you or someone else who does not deserve to die.
Message to Delonte West:  Hey bud, I know you are going through some tough times.  Anyone who makes more than a million dollars a year has my sympathy.  Do you think you might like to hunt?  My buddy here has some farm land you could scour and I got his ok on it.  Please start taking your meds and listening to the shrinks advice this time.  You are not only endangering yourself, but also the chances of a very good basketball team succeeding this season.  If it gets to be too much, walk away.  Take a break and get your act together.  Go find a guy under a bridge who will provide you with so many answers without you having to ask a single question.
It is still early enough in the young NBA season for Cleveland to decide what to do with Delonte West.  Ignoring the problems or shielding him is obviously not the answer anymore.
What a horrible year Cleveland Sports fans have had to endure.  The Cavs could have done better.  The Indians started and are ending the season with disgraceful heartless performances.  The Browns are lucky if they win six games this season.  When will it end?  Doesn't matter what team or season, the result for over 50 years has been disappointment. 
I applaud Cleveland fans for hanging in there and staying true to the teams they root for.  However, after attending a recent Indians game with about 25% of the stands at Progressive Field full, I have to wonder when fans will get disgusted enough to either switch teams or just put Cleveland sports as a whole on the back burner.  Again, there are diehards, but Chicago has tasted victory with the Bears, Detroit with the Pistons, Boston with the Patriots and Red Sox, etc… 
Let me start my story with the team that provides the greatest chance of winning something soon – the Cavs.  With the recent addition of Shaq and departure of Ben Wallace one of two things can happen.  1)  Everything will click, no one will be injured, and the Cavs will make a strong showing for an NBA Championship.  OR.. 2) Shaq will only play about half the year putting LeBron James back into the 'I have to do it all myself'  mode, or worse yet, James could get injured.  I still argue that he isn't going anywhere at the end of the season, but watch how that debate rages through the entire season and playoffs and becomes a bigger issue than the Cavs actually winning.
Move to baseball.  Eric Wedge should have been fired on Memorial Day or shortly after.  Wedge's admitted pal and BFF Mark Shapiro stuck his neck out for Wedge to at least be given the end of the season to present his capabilities as a manager.  He has failed to do so.  Shapiro traded Cliff Lee to Philadelphia this season, even though he had another year on his contract, for pitching prospects like Carlos Carrasco (0-2, 9.64 ERA).  Last year CC Sabathia was pushed away instead of being offered a new contract and he didn't do too bad in Milwaukee.  Both guys (Shapiro and Wedge) need to go and a true rebuilding process needs to take place, otherwise expect more Pirate-like boneheaded moves followed up by the financial weeping of a money-hungry front office. 
Question: Brady Quinn or Derek Anderson?   Answer: Neither.   Browns fans are truly some of the most loyal people who follow sports.  The defense looked rather good in the first half against Minnesota in the opener.  In the second half, they looked dismal.  There is no consistency on this team.  They will jump up and win a few games, they always manage to do that much.  The problem at quarterback is not the individuals who play that position.  Quinn OR Anderson will be running for their lives as the line is still weak.  When they do have time, who do they throw to?  Braylon 'drop 'em' Edwards?  Josh 'Wildcat' Cribbs?  They need help at receiver bad.  Cribbs running the Wildcat Offense on Minnesota's two-yard line was comical, for two plays.  Drew Brees would struggle with this team.
Sorry Cleveland fans.  Mad respect for the loyalty to these three franchises, but if the Cavs don't do it this year it's gonna be awhile longer in any sport.
Please comment if you think I am right or wrong, I am anxious to hear what others think about this.
Mahoning Valley Thunder Coach Chris MacKeown insists that Tom Zetts is now with the team because he is a player, not because he is a local guy to promote as a ticket selling scheme.  Zetts enjoyed a very successful career at Boardman High School and later with Youngstown State University.
As a member of the Penguins, Zetts recorded school bests for pass attempts (1,094), completions (654), touchdowns (51), yardage (7,643), 200-yard games (13) and completion percentage (59.8). His 8,277 total offensive yards are also tops in Penguins history.
Zetts spent the 2008 season with the Parma Panthers of the Italian-American Football League.  In his only season at the controls he guided his Italian Panthers team to the EFAF Cup Championship.  At season's end, Zetts returned to the area and coached at Duquesne.
The Thunder contacted Zetts in the Spring to be a part of the team, but Zetts is very devoted to his job at Boardman High where he teaches a couple of levels of algebra.  His involvement in Spartans extra-curricular activities limited his time.  With three weeks left in the Thunder season, he wanted to take the time to see what he could do while still young and in good physical condition. 
Zetts told me he is thrilled to be a part of the Thunder and maybe getting the chance to play in front of family and friends.  Because of his familiarity with the area, a few of Zetts' new co-workers have tried to make him tour guide for Youngstown nightlife and places to meet a pretty girl.  A chuckling Zetts replied that he is happy and that with a great girlfriend he doesn't do too much solo nightlife activity.
Zetts said he didn't hear much about the Steve McNair tragedy other than the fact that he was dead.  He was in San Diego enjoying a visit with his brother. 
Tom likes to watch Two And A Half Men and Sportscenter.  He is a Cleveland Browns and Cavaliers fan, but credits the emergence of cable television and TBS for his liking of the Atlanta Braves.
Zetts told me all of the places he has been, nobody has the selection of good pizza like Youngstown.  His favorite place is Belleria, but said he enjoys pizza from many places in the area.
Tom is a country music fan.  His favorite artist is Pat Green.
Zetts, like every other Thunder player likes video games.  He has a PS3 and is currently playing Call of Duty 4.  He also enjoys tinkering with some sports games.
Tom Zetts is a welcome addition to this team.  He knows his role and says he is not here to take Brad Roach's job.  Coack MacKeown says that the person who plays will be the person who puts the team in the best position to win.  I like both Zetts and Roach and would not want to make that decision. 
The Cleveland Cavaliers are scrambling desperately to plug the holes that prevented them from winning it all last year.  Anthony Parker, currently with the Toronto Raptors, is the next guy down on Danny Ferry's wish list.
Shaquille O'Neal, in my opinion, was a good signing.  Leadership and experience go a long way in the NBA and Shaq has plenty of both to offer.
I am glad that Ron Artest signed with Los Angeles.  Artest is a head case and will have problems with Phil Jackson and/or Kobe Bryant while he is in a Lakers uniform.  Thanks Mitch Kupchak, we owe you one.  Then they turn around and give Trevor Ariza to Houston.  Who will be worse next year?  Houston or Oklahoma City?
Charlie Villanueva and Ben Gordon probably wanted to play together like they did at UConn a few years ago.  I want to play kickball at recess again too, but it probably can't happen.  Joe Dumars isn't seeing the big picture in Motown.  Rasheed Wallace is going to be gone, Allen Iverson has been used entirely wrong since they got him, and Rip Hamilton is unhappy.  Bringing in Avery Johnson to handle this dog and pony show wont be enough.
I wish the Cavs would just go after Chris Bosh and get it over with.  Bosh will be in a Cavs uniform next season, mark my words.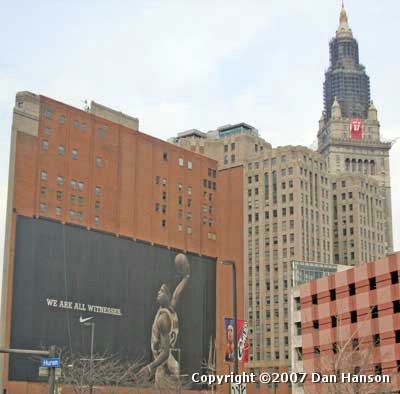 Lebron James was the hero Friday night, hitting a three with one second left against Orlando to further his rapidly growing legacy.  Cleveland sports have been one failure after the next for over half of a decade.  These kinds of plays usually happen against Cleveland teams.  For years, this areas sports fans have had to endure memories of Michael Jordan hitting a shot over Craig Ehlo, John Elway and "the drive", the Florida Marlins unlikely burst in the World Series… Sigh.
I cannot remember a bigger play in Cleveland sports history.  Usually the person Cleveland fans have banked on to deliver in the clutch comes up with some new and bizarre way to stun fans into waiting for next year.  The shot that Lebron made only won one game, but being down 2-0 heading back to Orlando would have been much tougher.  I sincerely feel those nine days off take a team out of "game shape".  It got obvious in the third quarter of games one and two where the Cavs blew huge leads.
Yesterday I went to The Eastwood Mall in Niles.  It was pretty crowded and I could not believe the amount of people I saw wearing #23 Cavs jerseys.  People in this area who have rooted for Cleveland teams have waited a lifetime for that moment.  24 years ago, had I went to the same mall, I am sure I would not have seen Ehlo jerseys everywhere.  The other thing that impressed me was the window display of every sporting goods store was flooded with Cavs merchandise.  I asked clerks at a couple of the stores if they redid their displays this morning and unanimously was told, "no, we haven't touched that window display for months".
If Lebron can continue his heroics through the finals and secure a championship for the city of Cleveland I am not sure what to expect.  I do know that Cleveland fans everywhere are zoned in.  With a championship, Lebron James can carry over 50 years of grief to the dumpster.
Cleveland is in a great situation.  They can sit at home, watch the Bulls and Celtics beat the hell out of each other and wait for Atlanta or Miami.  The Cavs disposed of Detroit in 4 straight games.  Rumors of Kevin Garnett returning to play in Game 7 against the Bulls are still unknown.
In blowout wins all season, Lebron James would usually sit on the bench for a quarter or so anyway, so it isn't like the rest is going to hurt the Cavs chances of playing a solid series against whomever is next.  I am sure that this years team will keep a pretty strong focus on winning a championship. 
The one thing, in my opinion, that will chase Lebron away from Cleveland is if this team fails to win a championship before his contract is up.  This could be the year.