Archive for the 'Music' Category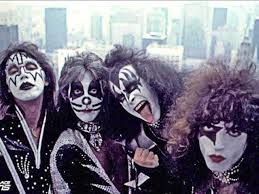 Gene Simmons used to be cool, then the money found him. Paul Stanley used to be cool, then success ruined him. Kiss was inducted into the Rock And Roll Hall of Fame this week, and the two governing forces of a 40-year run were the dictators that prevented good memories for the fans to relish in a moral victory over the critics.
Ace Frehley and Peter Criss are no angels. Their problems with substances have been well documented over the past 30 years. They, however, were half of the reason that KISS was inducted into the Class of 2014. For Paul Stanley and Gene Simmons to prevent the fans from enjoying the original lineup performing was hypocritical in the sense they have been using the crutch, and still are, that everything they do is "for our fans".
I'm sure if you took a poll of KISS fans, the overwhelming majority would have voted for the original lineup to perform three songs.  Fresh off of a trip to Las Vegas, I would have bet my life savings that if it were lucrative enough of a demand, Simmons would have jumped at the chance.
Heading out on a tour with Def Leppard (who will open?), KISS is using Tommy Thayer on guitar and Eric Singer playing the drums.  Singer and Thayer are talented musicians, don't misunderstand the respect factor for them.  However, they are borrowing the identity of a couple of Hall of Famers to succeed.  Kiss could use anybody as long as they are wearing the makeup, nobody cares much.  Nobody except the die hard KISS Army.  The once powerful legion is sure to diminish because the stubborn star child and greedy demon looked bad leading up to this induction.
When the hardware was handed out on Thursday night, the four original members stood tall and proud, united, albeit by force.  Frehley has been quoted as saying he could "give a shit less" but felt the fans were the ones being punished by the two power mongers.  Criss just looked happy to be involved in any way.
The bottom line KISS fans, is now, how long will you watch Simmons and Stanley and their rotating cast of hired help prosper off of ten years that built 40?  Maybe they can let David Letterman put the cat makeup on or let Cher be Ace Frehley for the new tour. If it has an inkling of financial potential, Simmons is in.  If Simmons is in, Stanley is in.  Paul is too smart to know that Gene is a financial machine to impede his crazy manipulations.
Good luck to the LA KISS, their latest financial endeavor.  They surely will hold nothing on the Mahoning Valley Thunder except that KISS logo on the helmets (that Frehley designed) will now draws suckers.  I admit, I was a sucker for years, but after this debacle, I am moving on.
Eddie Money was an MTV Pioneer.  He was a consistent chart holder throughout the 80's.  He was a wild, "no control" showing animal.  He typified how the music industry can be conquered, and this Friday, he is coming to Warren to play those hits that mark his legacy in the music industry.  Los Gallos and Coors Light are backing Eddie Pannuti in welcoming the Money Man back to the area to do a Relay For Life benefit concert.
Paneech:  Do you get excited about coming to the Youngstown – Warren area?
Money:  I'm very excited about coming back to that area.  I have befriended the Debartolo family over the years.  I have played golf there and they have some of the best ice cream I have ever eaten.  It is one of those stops on the tour where I feel like I have a strong connection with a certain group of people and I love that area, like a certain pocket of the country.  I am really looking forward to playing there.
Paneech:  Walk me through the transition of going from a cop to a rock star.
Money:  My father and grandfather were NYPD officers and my brother is now.  I was against the Vietnam War and my brother was there.  I was kind of stuck because I really didn't want to go to college.  I ended up working on the force for a little period of time and then moved to Southern California to attend UC Berkeley.  I caught a few breaks and got a big push from Bill Graham and Columbia Records.  Next thing I knew, I was doing Saturday Night Live and Midnight Special.
Paneech:  With a touch of law enforcement, comment on the terrorism that America is unfortunately fearing these days.
Money:  The world is becoming a very confusing place.  There is a lot of bad in the world these days and ever since 9/11, Rock and Roll has become the remedy.  I feel like I am doing my part by playing my 14 hits that were on the Billboard Hot List.  (Laughs) When I am sober, I do real good stuff.
Paneech:  What is your favorite Eddie Money song that you look forward to playing?
Money:  I like to play whatever the people want to hear.  Take Me Home Tonight is a big crowd favorite.  I like to play that song, I also really like to play Shakin' and Two Tickets To Paradise.  Ultimately, whatever the audience wants, is what I want to play.
Paneech:  What sports do you like to watch, and who are your favorite teams?
Money:  I am a sports junkie.  I watch baseball, basketball, and football.  I ran the mile in high school – right around the five minute mark, that made me the fastest kid in school.  I also played soccer.  As far as the pros go – I like Kobe Bryant and Steve Nash.  I am not a big Lebron James fan, but geez, he is amazing to be that big, strong, and quick.  I follow the Mets and the Giants baseball teams pretty close too.  How about this Matt Harvey for the Mets?  He threw good again last night.
Paneech:  What do you like to listen to?
Money:  I have a pretty wide range.  I like to listen to Judy Collins.  I also like Jimi Hendrix, the Beatles, the Stones, the Kinks, and on and on.  I get caught humming the newer stuff sometimes because of my kids.  If we are driving in the car somewhere, I get forced into Lil' Wayne sometimes.
Paneech:  Who is your best friend in music?
Money:  My drummer – Glenn Symmonds.  We just found out that he has cancer and it breaks my heart.  I don't want to get all emotional, but he has been a great friend and now faces the biggest fight of his life.
Paneech:  You recently did a spot for Geico (above).  How many takes before they said Two Tickets sounded good enough?
Money:  (Laughs)  It was an adventure, that's for sure.  Originally, there was a woman at another desk.  We fired her and she isn't in the commercial.  We did 30 takes.  Somewhere in the high teens, a bird flew into the shot and that got scrapped.  We ended up keeping the one that my wife thought I sounded pitchy on.  Today is her birthday, and she is not in a great mood.
Paneech:  Who are your favorite people to play for?
Money:  Without question, the people in uniform who represent our great country.  On my website, there is a single called One More Soldier Coming Home.  All of the proceeds from that single are being donated to The Intrepid Fallen Heroes Group.  You know, I met a group of Marines and we decided to head to a bar.  Let me tell you, those Marines can drink.  It was actually my honor to spend that time with them, I have so much respect for all of the men and women who defend the United States.
Paneech:  How big of a boost did the emergence of MTV give your career?
Money:  It was huge, and the break I got was that very few were smart enough to realize the impact MTV would have.  I was a top dog.  Me and Huey Lewis.  Looking back at the Shakin' video, I kind of looked like a singing shoe salesman.
Paneech:  What can you attribute the success to?
Money:  It is a tough business to crack.  As an artist, you will get chewed up and spit out.  My kids already think that they are going to be famous.  It is a stressful process filled with hard work that ultimately ends up being a lot of fun.  You need to get lucky and catch your share of breaks.
One Word Answers with Eddie Money
Favorite TV Show:  Sportscenter.
Biggest Phobia:  Heights (Acrophobia).
Amount of Hours You Sleep Per Night:  Eight.
Favorite Cartoon Character:  Yosemite Sam.
Favorite Movie:  The Godfather.
Fast Food Destination And Order:  Taco Bell.  I get two tacos and I used to love the beef burritos when they had the green sauce, but it disappeared.
Plug For The Concert at The Warren Amphitheater:  I've got two tickets for all of the fans in Warren and Youngstown.  It is going to be a fun show and I hope to pack the place.  It is circled in my datebook.
International super duo Sugarland will return to the road this spring in continued support of their highly-successful album, The Incredible Machine. Sugarland, with special guest Canaan Smith will play the Covelli Centre on Friday, April 6th as a part of their "In the Hands of the Fans Tour 2012".  Tickets go on-sale to the general public on Friday, February 24th at 10 a.m. Tickets can be purchased through Ticketmaster, all ticketmaster locations, the venue box office, or charge by phone at 800-745-3000.
To hear Jennifer Nettles tell it, it's a brand new day in Sugarland. Despite winning multiple Grammy, CMA and ACM awards-and selling more than 9 million records-the country-music duo of Nettles and Kristian Bush is embracing a creative rebirth.  Sugarland has achieved seven #1 singles since exploding onto the music scene in '04 with Twice The Speed Of Life ("Baby Girl"/"Something More"). Enjoy the Ride ("Want To"/"Settlin'"/"Stay") quickly followed in '06 and their third studio album Love On The Inside ("It Happens"/"Love"/"All I Want To Do"/"Already Gone") in July '08, which skyrocketed them to superstardom, drawing fans from all genres and critics abroad.
As a thank you to their loyal fans, in August '09, the duo released Live On The Inside, a CD/DVD set of live tracks, covers and footage from their "Love On The Inside" tour. The same month ABC aired an hour-long network special featuring the pair in their most beloved setting…on stage. The holiday season brought about Gold And Green, a 10-track holiday collection consisting of half standards and the other half originals, all of which Nettles and Bush co-wrote. They also co-produced.
They've received trophies from the Grammys, American Music Awards, the Academy of Country Music, CMT Music Awards and the Country Music Association. Nettles has performed at the Kennedy Center Honors with musical tributes to Bruce Springsteen and Neil Diamond and the duo has collaborated live with heavy-hitters like Adele, Rihanna and Lady Gaga among others. They have been seen all over the media spectrum with appearances on Oprah, Good Morning America, Ellen, The Tonight Show with Jay Leno, Chelsea Lately, Today Show and CNN Heroes. Sugarland has performed in numerous European countries and have headlined multiple U.S. tours which continue to see out venues across the country.
This is another chance for Youngstown and the Mahoning Valley to welcome a huge musical act to our Covelli Centre.  Eric Ryan is on a roll!
Recently, the producer of RIVERDANCE, Moya Doherty, announced that the United States touring production ofthe internationally-acclaimed worldwide phenomenon will close in June, 2012. RIVERDANCE will play the Covelli Centre FOR THE VERY LAST TIME, May 15 for 1performance only! Tickets for RIVERDANCE go on sale March 2nd at 10am and range from $38.00 to $58.00 and are available at the Covelli Centre box office, 1-800-745-3000, or on the Ticketmaster website.
"When we opened RIVERDANCE in New York in March 1996, we never thought for one minute that our show would still be running 15 years later," said Moya Doherty. "Three years ago we embarked on our farewell tour, saying good-bye to every city in North America we have ever played in over the years, and next June 17th in our 16th year this current production of RIVERDANCE will end and  we will say our final good-bye.  It has been a source of immense pride for me as Producer that America took RIVERDANCE to its heart to such an amazing extent and I would like to pay tribute to every dancer, musician, singer and all the crew and staff who served RIVERDANCE so well over the years. "
What began as a seven-minute dance segment on the 1994 Eurovision Song Contest (televised to over 300 million people throughout Europe) and then quickly turned into a full-scale production has become much more than an international theatrical success. "I believe RIVERDANCE has been basically a pathfinder," said Niall O'Dowd, founder of Irish America Magazine and the Irish Voice newspaper. Along with the peace process in Northern Ireland and the economic miracle in Ireland proper, the show "has been a hugely important part of a transformation of the image of Ireland in the last 20 years."
Check out the farewell tour as it makes a one show only stop in the Mahoning Valley!
Trace Adkins is coming to Youngstown to play a show at the Covelli Centre on Friday, November 18.  Tickets for the concert go on sale Friday, September 30 at 10 a.m.  The tickets are very reasonably priced and Adkins is a sure sellout, get in on the action early Friday.
Adkins is a man of many hats, both literally and figuratively. He achieved reality TV stardom on Donald Trump's "Celebrity Apprentice," he's dabbled in acting, and he laid out his conservative political views in the book, "A Personal Stand: Observations and Opinions from a Freethinking Roughneck." Adkins has also ventured into the comic book world with the launch of LUKE McBAIN, a four-part comic book series whose lead character was based on the country giant's likeness and persona.
But at the end of the day, he's a country singer – pure and simple.
Adkins made his debut in the country music world almost 15 years ago with a platinum-selling album and has since become an undeniable musical force, earning his place among the most identifiable artists of his generation.
An esteemed Grand Ole Opry member since 2003, Adkins has built a strong legion of fans by recording songs that possess insightful lyrics and cover a wide range of interests — many from his own life experiences. With one of the most identifiable voices in country music, the Grammy-nominated artist has had twenty-eight singles land on Billboard's country chart, with 14 breaking into the Top 10. His albums achieve gold or multi-platinum status and have made chart-topping debuts.
"Mom! Phineas and Ferb are going on a live tour!" Join the Danville Tri-State Area Gang for a high-energy ride through their wildest invention yet in Disney's Phineas and Ferb: The Best LIVE Tour Ever! The beloved characters from Disney Channel's animated series embark on a bold escape from the television screen to a live action adventure – right in your hometown! This brand new live stage production performs at the Covelli Centre in Youngstown on October 29, 2011 at 1pm and 4pm. Tickets go on sale Friday, June 4th at 10am.
Produced by Feld Entertainment, Disney's Phineas and Ferb: The Best LIVE Tour Ever! brings Phineas, Ferb, Candace, Isabella, Baljeet, Buford and friends to the stage as they make the most of the last day of summer by building an invention bigger, better and more amazing than ever. And, before you can wonder, "Hey, Where's Perry?" the beloved pet platypus shifts to his secret double life as Agent P to foil another one of Dr. Doofenshmirtz's evil plans.  Musical madness abounds in an escapade so awesome that even Candace can't help but join the hilarious hijinks.  It's the ultimate end to summer vacation, so seize the day 'cause Phineas and Ferb are gonna do it all!
Tickets are available at Ticketmaster , at  the Covelli Centre Box Office or by calling 1-800-745-3000. To find out more about Disney's Phineas and Ferb: The Best LIVE Tour Ever!, go to the Phineas And Ferb Live Disney Page, or visit us on Facebook and YouTube.
You can flip a coin to decide which band, ZZ Top or Lynyrd Skynyrd, would be the headliner for the Rebels & Bandoleros Tour which will be making a stop in Youngstown on May 22.  These are two of the premium bands to pioneer a hot Southern Rock movement which blossomed in the late 1970's and carried over into the 80's.
"These bands are big time for Youngstown," commented Eric Ryan, director of the Covelli Centre.  "There are a few tickets left, but the response has been tremendous and we anticipate a sellout."
Amazingly, ZZ Top has the same lineup it had 40 years ago.  Billy Gibbons, Dusty Hill, and Frank Beard have beaten the odds of longevity and persevered into a few new decades as a trio.  Gibbons and Hill grew the trademark beards in 1977 when the band was taking a break between touring and the next album.  In 1983, Eliminator was released and MTV gave the band heavy rotation for their concept videos featuring some very pretty women.
This band has sold 50 million albums worldwide, 25 million in the US alone.  For all of their great accomplishments, the band was inducted into The Rock & Roll Hall of Fame in 2004.  These guys are legendary and will live long beyond the mortal man as they have definitely carved their likeness into pop culture.
Speaking of leaving a mark on pop culture, Lynyrd Skynyrd takes a backseat to nobody.  Just in the last couple of years, bands on the way up have borrowed from the legendary group.  Kid Rock used the melody of Sweet Home Alabama to get himself a big #1 hit.  Shinedown took on Simple Man, and on and on.  Those Van Zant boys sure know how to write a good song.
There is so much history with Skynyrd.  They named their band Lynyrd Skynyrd after a stringent gym teacher named Leonard Skinner who had a policy against boys with long hair.  The 2006 Hall of Fame inductees are still pounding the arenas.  The only original member who remains is Gary Rossington.
Skynyrd has endured despite tragedy.  On October 20, 1977, just three days after the release of Street Survivors, and five shows into their most successful headlining tour to date, Lynyrd Skynyrd's chartered airplane ran out of fuel near the end of their flight from Greenville, South Carolina, where they had just performed.  Though the pilots attempted an emergency landing on a small airstrip, the plane crashed in a forest in Gillsburg, Mississippi.  Ronnie Van Zant, Steve Gaines, Cassie Gaines, assistant road manager Dean Kilpatrick, pilot Walter McCreary and co-pilot William Gray were all killed on impact; the other band members suffered serious injuries.
Johnny Van Zant, and his brother, Donnie of 38 Special, carry the torch for the loss of Ronnie.  Johnny is in the current touring group, he just wasn't an original member.  This band took ten years off  before deciding to give it a go in 1987.  Their music is absolutely unique and can be heard and recognized at any time.
Maybe that is what makes this twin bill on May 22 so special.  Both of these bands have a trademark sound that the average music fan can identify.  If you want good, original, from the heart Rock & Roll, this would serve as a can't miss show.
To say that Eric Ryan is ambitious would be an understatement.  Ryan has lured some major events to the Covelli Centre in the past couple of years and the hits keep coming.
Ryan and staff have already booked national acts like the Goo Goo Dolls, Motley Crue, Poison, ZZ Top, Lynyrd Skynyrd, and Tim McGraw for the upcoming concert attractions at the center.  Pretty gaudy list of musicians there.
Last year, Ryan convinced the powers that be that Elton John should come to Youngstown, and he did.  He also managed to sneak Journey and Heart into town and Styx, Night Ranger, and REO Speedwagon stopped by later.
Think about it, these national acts don't call smaller venues seeking a few locals.  They are playing here because Ryan and his very capable promotion team are convincing the acts that they will be well received.  Props to Kenny Bigley, Jon Jacubec, and everyone else involved who makes these seemingly unrealistic chances possible for the concert starved Mahoning Valley.
The most likable thing about Ryan is that he takes great pride in what he has achieved.  He is still a very humble guy who always says hello regardless of how busy he is.  I don't know what else is out there that hasn't come through Youngstown yet, but I can assure you that Ryan will get the big acts as long as he is in power.
38 Special made a visit to Northeastern Ohio to share their traveling party and some really good music with their fans.  The fans got more than their moneys worth at the Packard Music Hall in Warren, as the Wild-Eyed Southern Boys delivered.  Don Barnes (left) and Donnie Van Zant (right) harmonized as well as anyone I have ever heard live.  The whole concert was very tight and proved that this band can still deliver in a big way.
Packed House Productions gets an attaboy for bringing such a big fish to the small pond.  The DeVengencie family, who runs the promotion, donated proceeds from the concert to charity and fans did not have to pay any service fees as they would when ordering tickets through Ticketmaster.
Having interviewed Barnes a few weeks ago, I was told that this band still had it.  I was promised that the concerts they play are a party and it is all about delivering for the fans.  I learned that there would be no auto tune gimmicks, no drum machines, no lip-synching, or visual distractions to cover bad sounding music.  Give Barnes credit for being an honest man.
Joe Grushecky and The Houserockers played a blistering set to open.  Grushecky was a solid choice to open because the music is pretty much in the same genre, hard-driven, blues-based rock and roll.
Once Grushecky and company wrapped up, John Batcho, aka Mr. Sports,hit the stage.  Batcho's station, Y-103, did a really good job hyping the concert for the last several weeks.  Batcho got the honor of introducing the band.  A few minutes of introductory sound later, The first chord of Rockin' Into The Night hit and the crowd erupted.  Right from the first note Barnes sang, it was obvious that the big sound was still there.  Van Zant harmonized through the chorus of that opening song, and people around me were all amazed at how much 38 Special still sounded like their recordings.
Barnes and Van Zant really share a role of being co-frontmen and both know how to work the crowd.  Danny Chauncey was also on the front line with the big guys and also participated in making sure his feet touched every section of the stage.  Bassist Larry Junstrom typifies a guy that is happier standing back and doing his thing.  Keyboard player, Bobby Capps, stepped forward and sang Second Chance, but otherwise was stationary because his instrument was immovable.  Drummer Gary Moffatt did a couple of fancy things, and I am sure he could have done more, but played his role as a consistent metronome, not missing a beat.
Anyone who saw the show can vouch that these guys are having a good time.  Van Zant was smiling all night (above) and seems like he enjoys himself.  Barnes just keeps busy.  Don't get me wrong, he was having fun, or "big fun", as he would call it, but he was switching guitars, singing, always playing, and still moving around.
The sound quality was fresh.  There were no feedback squeaks of horror or out of pitch lyrics.  For my money, a good sounding band that does not tinker with the arrangements and doesn't have to move down a key because they can no longer hit those high notes is a band I will always pay to see. Barnes' vocal range and consistency are amazing. I have always felt he has one of the most underrated voices in the music industry and his performance just backs up what I have been saying.
While talking to a "casual" fan at the concert in-between acts, he stated he was not sure he would know more than half of the songs, just the biggest hits.  After the concert, I sought him out to learn that he knew all but two.  The catalog that 38 Special offers is more vast than the casual fan realizes.
Before the concert, I got to meet the band.  When I told Barnes I was the guy who interviewed him a few weeks ago, he remembered my name, and for a few minutes, it felt like I was talking to a cousin who I only see every Christmas.  Guys like that are a dime a dozen in this industry and it is refreshing to know that five guys and their manager, Mark Rogers, were never too big for anybody who approached them at the meet and greet.  They signed anything put in front of them, took pictures, shook hands, and answered questions with everyone there.
After a solid two hour set, the band came back out for a three song encore featuring Hold On Loosely and covered Creedence Clearwater Revival's Travelin' Band to close the show.  An appreciative audience gave a well-deserved ovation to the visitors from Florida on a job well done.
These guys are touring all Spring and well into Summer, they are a must see show if you like rock and roll played the way it should be, with heart and passion and unobstructed.  38 Special…. they never lost a thing.
Also, thanks to Ron Stevens who snapped some great pictures and to Craig Campbell who represents the band for the accessibility and courtesy.
There is a band that originated quietly enough in Jacksonville, Florida way back when.  That band is called .38 Special and they are coming to the Youngstown/Warren area to perform on March 17 at Packard Music Hall.   Songs like "Caught Up In You", "Back Where You Belong", "Hold On Loosely", and many other recognizable classics are sure to be a part of this big show.
In the eighties, .38 Special dominated MTV, Billboard Charts, and arenas around the country.  One of the coolest things about this band is they are the prototype of what a blue-collar American group boundlessly strives to become.  They are charged up and ready to put on a great show worth seeing.  Don Barnes, along with Donnie Van Zant, is one of the founding members of the band which has exceeded the 20 million mark in sales.  I was recently lucky enough to speak with Barnes via telephone in hopes of asking him a question or two he may have never heard.  Enjoy the interview, but more importantly, grab some tickets and enjoy the concert!
Paneech: How did your band, .38 Special, end up on A & M Records?  Was it a luck thing or a case of knowing someone?
Don Barnes: Back then, there were bidding wars going on between A & M, Arista, and CBS.  Southern Rock, at that time, was a pretty big deal, kind of what grunge was to Seattle in the nineties.  We went with A & M Records because it was run by musicians.  They had a strong commitment to sticking with up and coming artists and aiding with artistic development.
Paneech: How can a band as big as yours endure personnel changes and retain that magical chemistry?
Don Barnes: When you do this for as long as we have, some will grow tired of living out of a suitcase.  There are musical differences that can push a band apart, like a marriage.  Over time, there will be a difference of opinions, and we have to do what is ultimately best for the band.  Jeff Carlisi had a little girl and took a different avenue in life.  He runs something called Camp Jam where they bring in a bunch of kids every Summer and have a smaller version of a rock and roll fantasy camp.  It is a great program and we all wish Jeff the best with it!  Our original drummer, Jack Grondin, was probably the wildest guy in the band and is now a world traveling evangelical minister and spends time raising money for orphanages.  You just never know.
Paneech: If the opportunity ever presented itself for Don Barnes to be on the panel of American Idol, would you take the opportunity, or do you think Steven Tyler of Aerosmith did the wrong thing by selling out?
Don Barnes: (laughs) You know, people take everything way too seriously.  An old gentleman who I remember seeing when I was much younger always used to tell me "Don't forget to have fun".  Steven Tyler has been laying the groundwork for over 40 years.  If he wants to step away for a bit, more power to him, just as long as he is having fun.
Paneech: Something I find particularly disturbing in today's music is the use of Autotune.  What do you think of it?
Don Barnes: I dislike it because it used to be that a good singer had to learn control and pitch, and now it's all synthesized.  We like to mess around with Autotune on a bass guitar from time to time.  Overall though, I am not a big fan of Autotune.
Paneech: How much longer can you and your bandmates keep up with the fast lane of touring?
Don Barnes: Ah, we are rolling until the wheels fall off.  We set out to create a heritage and we take great pride in the longevity that we have achieved.  Longevity is a goal, and that goal is reached when everybody gets along and respects each other.  We are laying some tracks at our studio in Atlanta with some new material.  We also just completed video production of some live performances we did in Texas that will be available for purchase real soon.  We have even had some fun with some of our hits in the sense that we have stripped them down and experimented with many different genres.  For example, we did an acoustic version of If I'd Been The One where the arrangement is very stringy and vibrant.  We are also tinkering with doing some soundtrack stuff, so we are keeping really busy.
Photo Courtesy of Carl Dunn
Paneech: Having done some research on you, I know you are an avid fisherman.  What else do you do in your spare time?  Are there any sports that the band follows?
Don Barnes: I am a football fan.  We all follow football through the playoffs and the Super Bowl.  Personally, I left the band for a few years because this career was hammering me.  During my time away, I loved to spend time in or near the water and would take my boat out.  I also started playing golf.  I even went snow skiing – imagine that, a guy from the South trying to ski.  I still try to relax and enjoy my time away from the touring as much as I possibly can.
Paneech: You have listed Eric Clapton as an influence.  Were there other influences?
Don Barnes: Growing up, I had pictures and posters of Eric Clapton all over my room.  My father would come in and I would say, "Hey dad, listen to this", and play him something Jimi Hendrix did.  He would just shake his head and say it all sounded noisy to him.  In those days, we would put the records on a turntable and slow them down so we could pick up the licks.  I also liked Muddy Waters and really like Leslie West from Mountain.  West had that big guitar sound.
Paneech: Any messages for the fans?
Don Barnes: Come out and have a large time!  We are a premier band live and we play what the fans want.  You will see how much fun we are still having and we really feed off of each other having fun on the stage.  Our concerts are an explosive celebration and it is the best job in the world, making people happy.
One Word Answers
Favorite Meal of The Day: Dinner.
Favorite Athlete: Peyton Manning.
Song You Love Playing Live: Chained Lightning.
Favorite TV Show: The Office.
Toppings On A Pizza: Meat Lovers (and well done).
Favorite Drink: Grey Goose and Three Olives.
Biggest Phobia: Fear of Heights.
Favorite Movie: Planes Trains, and Automobiles.  Big John Candy fan.
Worst Habit: Eating Late At Night on The Bus.
Song On Your ipod That No One Would Believe: Britney Spears, Piece of Me.  I love that song, listened to it seven times in a row one night.