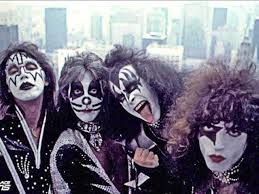 Gene Simmons used to be cool, then the money found him. Paul Stanley used to be cool, then success ruined him. Kiss was inducted into the Rock And Roll Hall of Fame this week, and the two governing forces of a 40-year run were the dictators that prevented good memories for the fans to relish in a moral victory over the critics.
Ace Frehley and Peter Criss are no angels. Their problems with substances have been well documented over the past 30 years. They, however, were half of the reason that KISS was inducted into the Class of 2014. For Paul Stanley and Gene Simmons to prevent the fans from enjoying the original lineup performing was hypocritical in the sense they have been using the crutch, and still are, that everything they do is "for our fans".
I'm sure if you took a poll of KISS fans, the overwhelming majority would have voted for the original lineup to perform three songs.  Fresh off of a trip to Las Vegas, I would have bet my life savings that if it were lucrative enough of a demand, Simmons would have jumped at the chance.
Heading out on a tour with Def Leppard (who will open?), KISS is using Tommy Thayer on guitar and Eric Singer playing the drums.  Singer and Thayer are talented musicians, don't misunderstand the respect factor for them.  However, they are borrowing the identity of a couple of Hall of Famers to succeed.  Kiss could use anybody as long as they are wearing the makeup, nobody cares much.  Nobody except the die hard KISS Army.  The once powerful legion is sure to diminish because the stubborn star child and greedy demon looked bad leading up to this induction.
When the hardware was handed out on Thursday night, the four original members stood tall and proud, united, albeit by force.  Frehley has been quoted as saying he could "give a shit less" but felt the fans were the ones being punished by the two power mongers.  Criss just looked happy to be involved in any way.
The bottom line KISS fans, is now, how long will you watch Simmons and Stanley and their rotating cast of hired help prosper off of ten years that built 40?  Maybe they can let David Letterman put the cat makeup on or let Cher be Ace Frehley for the new tour. If it has an inkling of financial potential, Simmons is in.  If Simmons is in, Stanley is in.  Paul is too smart to know that Gene is a financial machine to impede his crazy manipulations.
Good luck to the LA KISS, their latest financial endeavor.  They surely will hold nothing on the Mahoning Valley Thunder except that KISS logo on the helmets (that Frehley designed) will now draws suckers.  I admit, I was a sucker for years, but after this debacle, I am moving on.