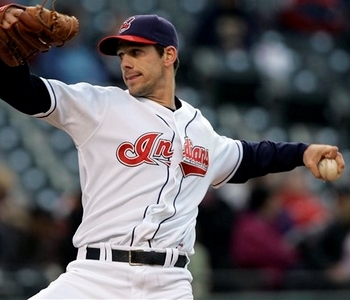 You would think that the Cleveland Indians would have learned a little something from the Toronto Blue Jays earlier in the week.  If not, you would think that the Indians may have learned something from the CC Sabathia trade last year.  Instead, the Indians are following the formula that has done so well for the Pittsburgh Pirates since 1992.  Dump salary and get prospects.
What the Indians should have learned from Toronto was not to donate Cliff Lee for prospects.  The Blue Jays traded offers with the Phils.  AJ Happ is a major league pitcher who is young and shows potential.  The Jays asked for Happ and Kyle Drabek, their #1 prospect for Roy Halladay.  Philadelphia said they wanted too much.  So Cleveland turns around and offers Cliff Lee AND Ben Francisco for neither of the aforementioned Phillies.  They get back four prospects with the best being Carlos Carrasco who is having a terrible year.  Good work Mark!  Give that extra guy and get neither big gun back.
What the Indians should have learned from the CC Sabathia trade last year was to get major leaguers back in the trade.  Cleveland basically gave Sabathia away to dump salary.  Sabathia and Lee, both Cy Young Award Winners should command a bit more demand than what they got back.  There are players on major league rosters who don't make $10 million per year.  Young players with Major League futures.
The Pittsburgh Pirates, unless they traded their name away too, are the farm system for baseball.  Call them MLB's only AAAA team.  Their role in sports is not to win, but rather to draft talent, develop it, and then sell it away for other talent to raise.  If you put together a team of Pirates traded away in the past five seasons, you would have half of a decent all-star team. 
You know the Indians are nowhere near done.  Victor Martinez will be heading away soon.  Guaranteed.  Kelly Shoppach is OK, but Martinez is special.  Carlos Santana is ripping the cover off of the ball at Double-A Akron and is a good defensive catcher.  That would make this trade more sensible, if and only if, Cleveland gets something back that they can insert NOW, not a future hopeful who might make it up someday.
I understand the economics of baseball.  There are two ways to play.  One is the greedy George Steinbrenner way.  Buy everything and field a bunch of big names.  The other way is to survive.  Cut your losses and hope for a better showing next year.  The Indians are reverse current on both right now.  They are buying very little.  Mark DeRosa was what they bought, and they already dumped him before the break.  Kerry Wood is what they kept, and frankly, he sucks this year.  Survival does not mean liquidation of every functional asset.  It means balancing the budget.  Cleveland is trying to ultimately show a profit when they do their taxes in April. 
No Responses to "Indians Make Second Bad Trade, More To Come"