The newest gimmick to boost ratings on Monday Night Raw is to have a guest host who will serve as an on-air commissioner, matchmaker, and celebrity presence.  This week's guest host is Shaquille O'Neal.  I got to thinking about some people who would want to run with the ball in this capacity and have designed a Top 10 list of potential hosts.
#1 Dana White
Dana White would be my choice for #1 guest host.  After what Brock Lesnar did at UFC 100 proves that anyone can leave the WWE, but the WWE never leaves anyone who was there.  There could be some real heat to have White come out and blame McMahon for all Lesnar said and did.
#2 Don King
Don King is one of the most unliked sports promoters ever.  Wouldn't it be great to see King in the WWE?  He could come out to some grand entrance, run his mouth for about ten minutes while trying to use as many three or more syllable words as often as possible.  Would be great TV!
#3 Howard Stern
The self-proclaimed "King of All Media", Howard Stern, would be a great choice for McMahon.  Not only will he draw huge numbers in viewership, but he will talk about it on the air for four weeks in between Robin Quivers G-Cups and Artie Lange's DUI.  Any Stern fan knows that the show still rocks but that Howard has mellowed a bit through the years.  What better opportunity to regain his edge.
#4 Joseph Jackson
Another guy who can chirp to the masses under any circumstances is Joseph Jackson.  Maybe the WWE will install a segment where the loser gets beat with Joseph's belt if he loses.  They could even take five random wrestlers and have Joseph whip them into shape to perform a Jackson 5 classic at the end of Raw.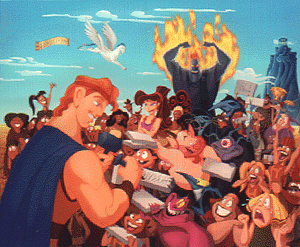 #5 Hercules
The original steroid abuser, Hercules, can teach the boys a few things about rationing the supply to get past the age of 40.  He could also beat up anyone on the Raw roster who will not comply.  Hercules was a McMahon if you do the geneology correctly.
#6 Michael Phelps
Who better to pass the bong with than Phelps?  The WWE is notorious for their wild drug abusing personalities.  I could see Randy Orton and Jeff Hardy lighting one up under the ramp before a main event.  It wouldn't hurt their careers any.  Look at what hanging out with Michael Phelps did for the career of Braylon Edwards (17 drops in 2008, led the league).
#7 Erin Andrews
Erin Andrews is currently living out her WWE fantasies muired in controversy.  The peephole video was nothing.  When Andrews gets her opportunity to be the guest host of Raw, she will surely go over the edge to get the heat off of that silly internet video which has recently surfaced.  She will face Steven A. Smith in a steel cage match filled with racial overtones, wardrobe malfunctions, and guest referee Joe Namath.  Can you imagine the numbers?
#8 Donte' Stallworth
Stallworth would probably do the WWE hosting gig for a dollar.  The reason I say a dollar is because it is income considered work so he can leave the house.  Of course, arranging for transportation and the post party are thing Vince McMahon will have to iron out.
#9 President Barack Obama
Seriously, how cool would it be for our President of The United States to host a wrestling program?  Obama has already proven that he is a normal guy to an extent and he does television appearances frequently.  This may be the most accurate guess on the whole list.  Don't be suprised!
#10 Charles Barkley
Barkley would be a perfect fit for the WWE.  Never short on opinion or the cockeyed reasoning to back up his opinions, Sir Charles could feud with Jim Ross and the rest of the announcers about the way they handle the mic.  It would be a monumental Raw to see Barkley calling the shots. 
14 Responses to "The Top 10 Most Wanted Guest Host List For WWE Monday Night Raw"