The Mahoning Valley Scrappers improved to 2-1 on their current road venture with a 2-0 victory over the Auburn Doubledays.  The Scrappers upped their 2009 record against the Doubledays to 4-0. 
The pitching on the road trip has been outstanding to this point.  Preston Guilmet went six strong innings and recorded five strikeouts while allowing just four Doubleday hits.  Guido Fonseca, Nick Kirk, and Tyler Sturdevant worked an inning each.  Sturdevant struck out the side in the ninth inning to earn his first save of the season.
The Scrappers posted both of their runs in the second inning.  Ben Carlson (pictured) singled to left and scored on Jason Smit's 2-run homer to left.
The Scrappers wrap up the series and the road trip tonight at 7:05 and can be heard on AM-1390 with Marc Means calling the game.  The Scrappers return home to open a four-game homestand against Batavia and Auburn starting with Fireworks Friday.
Smit-O-Meter:  1-4, HR (1), 2 RBI (22), Currently Hitting .284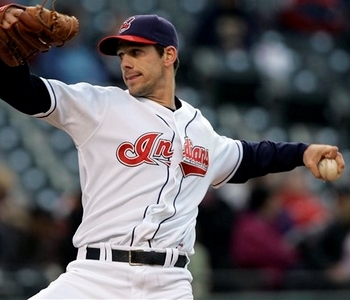 You would think that the Cleveland Indians would have learned a little something from the Toronto Blue Jays earlier in the week.  If not, you would think that the Indians may have learned something from the CC Sabathia trade last year.  Instead, the Indians are following the formula that has done so well for the Pittsburgh Pirates since 1992.  Dump salary and get prospects.
What the Indians should have learned from Toronto was not to donate Cliff Lee for prospects.  The Blue Jays traded offers with the Phils.  AJ Happ is a major league pitcher who is young and shows potential.  The Jays asked for Happ and Kyle Drabek, their #1 prospect for Roy Halladay.  Philadelphia said they wanted too much.  So Cleveland turns around and offers Cliff Lee AND Ben Francisco for neither of the aforementioned Phillies.  They get back four prospects with the best being Carlos Carrasco who is having a terrible year.  Good work Mark!  Give that extra guy and get neither big gun back.
What the Indians should have learned from the CC Sabathia trade last year was to get major leaguers back in the trade.  Cleveland basically gave Sabathia away to dump salary.  Sabathia and Lee, both Cy Young Award Winners should command a bit more demand than what they got back.  There are players on major league rosters who don't make $10 million per year.  Young players with Major League futures.
The Pittsburgh Pirates, unless they traded their name away too, are the farm system for baseball.  Call them MLB's only AAAA team.  Their role in sports is not to win, but rather to draft talent, develop it, and then sell it away for other talent to raise.  If you put together a team of Pirates traded away in the past five seasons, you would have half of a decent all-star team. 
You know the Indians are nowhere near done.  Victor Martinez will be heading away soon.  Guaranteed.  Kelly Shoppach is OK, but Martinez is special.  Carlos Santana is ripping the cover off of the ball at Double-A Akron and is a good defensive catcher.  That would make this trade more sensible, if and only if, Cleveland gets something back that they can insert NOW, not a future hopeful who might make it up someday.
I understand the economics of baseball.  There are two ways to play.  One is the greedy George Steinbrenner way.  Buy everything and field a bunch of big names.  The other way is to survive.  Cut your losses and hope for a better showing next year.  The Indians are reverse current on both right now.  They are buying very little.  Mark DeRosa was what they bought, and they already dumped him before the break.  Kerry Wood is what they kept, and frankly, he sucks this year.  Survival does not mean liquidation of every functional asset.  It means balancing the budget.  Cleveland is trying to ultimately show a profit when they do their taxes in April. 
Kelly Pavlik does not need to move up in weight and play with Showtime in their tournament.  As Pavlik recently said, "Careers will be ruined by that tournament and I will beat whoever wins."  The champ is set to be interviewed within the next couple of weeks as he nears a Fall fight date.
Other great stories:
Tim Lincecum looked worthy of some Cy Young hype with his effort agains the Pittsurgh Pirates Monday night.  Lincecum pitched a complete gams and struck out 15 Pirates.  The San Francisco Giants won the game 4-2.  The two Pirate runs were unearned gifts courtesy of wishy-washy and heavily traveled shortstop Edgar Renteria. 
Lincecum only surrendered three hits and made the Pirate lineup look foolish from top to bottom.  No doubt about it, The Freak was cranked up and rolling at the bay!
Granted the fete was somewhat downplayed because it happened against the Karen Carpenter-offense of Pittsburgh.  The Pirates had been shut out their last two starts and Lincecum was not the man they needed to see to get the offensive bus moving forward.
The Mahoning Valley Thunder closed out their season Saturday night.  Unfortunately, the home team was unable to end on a high note losing 63-43 to the playoff-bound Green Bay Blizzard.  The 2-14 record posted by the Thunder does not even come close to the spirit and competitive fire I saw all year.  This team was in more than half of the games they lost.
Personnel changes make a difference whether dealing with a band, a sports franchise, or the office.  Team chemistry needs to develop, it can't just be inserted and plugged in.  With a high number of coaching changes and team philosophies, the odds of success increase greatly.  The Thunder endured three coaching changes in 2009.  Mike Hold started the season as the head coach.  He was terminated and replaced by Brennan Booth.  Andy Kelly was brought in to run an offense struggling to score.  Eight weeks in, Booth gets knocked down to defensive coordinator, Andy Kelly goes away without ever seeing a steel mill, and Chris MacKeown, the Bill Parcells of arena ball  is hired to run things.  Mackeown has the reputation of making bad teams good, "We want to build on guys that have character like this and play hard every snap.  I have always had an offseason to work on things and this was a new challenge.  I have taken bad teams and turned them around, which I was unable to do here.  We have to get better on offense.  We have to stay healthy to put more points on the board, and we will.  We scored 50 points once while I was here, and that will not happen next year."
Problems at QB have been there all year.  Davon Vinson was pegged to start but  was replaced, Blake Powers took over for the Thunder and played respectably until breaking his collar bone and landing on IR.  When Powers couldn't play, Vinson was rewarded the starting job back and was yanked after being ineffective.  Brad Roach was brought in to learn fast and thrown into the fire even faster.  Tom Zetts was a season-ending addition who took over for the injured Roach.  Three coaches + four quarterbacks = mess.
Quorey Payne should add the words "instant offense" to his name.  Payne was exciting to watch all season catching passes and returning kickoffs.  He made it through most of the year until knee problems ended his season.  Payne told me his agent is working on a highlight film to send out to UFL teams.  CJ Brewer missed the last couple of games with a broken hand.  Brewer had the best end zone celebrations I have ever seen with the exception of Jermaine Moye's display Saturday.  On a Moye from Zetts TD reception, Jermaine mocked The Rock and gave the ball "the people's elbow".  I asked Moye about the celebration, "I'm not really a celebration type dude, but I am a fan of The Rock."  Moye said he is looking forward to playing football and thinks Ohio is the advertised hotbed it has come to be known as.  He also said, as did Quorey Payne, they would love to play here again if there is a team and they don't end up playing on Sundays.
Tom Zetts enjoyed his brief stint with the Thunder.  "We had a good crowd.  I was happy to see family, friends, teachers basketball players [that he coached],  it was great to see everybody.  I wish we would have pulled that win out for these fans.  We put on a little show for the hometown crowd."  When asked about his future, Zetts simply said, "You never know, I never thought I would play these three games so you just never know."
Frashon McGee showed his adaptability by switching to receiver for the last game and had a couple of big catches.  McGee had a tryout with the Buffalo Bills a few weeks back and has the size that Quorey Payne lacks to be a Sunday guy.
I will miss looking forward to Thunder games.  The question has been kicked around locally of whether this team will return to play in Youngstown next year.  I asked one of the owners, Tim Chesney, what the future prospectus of the team were.  " We [the three owners] will sit down next week and evaluate everything.  I cannot say whether next year will happen yet or not until everything is assessed and looked over."  I also asked Chesney what he thought of the crowd, "It was encouraging to have a good sized crowd and we thank the fans for their support"  The crowd of almost 4,000 proved that arena football in Youngstown is marketable.
So, before closing the book on 2009, and hopefully looking forward to 2010, there are some thanks to be given.  Thank you to Anthony Farris for always being accomodating and positive.  (The Farris – Aleshere broadcast team feature piece will be up in the next week).  Thanks to coaches Chris MacKeown and Brennan Booth.  They were also very generous with their time and deserve praise for their efforts.  Thanks to Blake Powers, Brad Roach, Davon Vinson, and Tom Zetts, for the constant effort at quarterback.  Thanks to Larry Harrison, the Reggie White of arena ball, for always having a smile and caring about the game results with all of his heart.  Quorey Payne and Jermaine Moye are two very special guys.  They were always polite, always had a smile on their faces, were thankful and praiseworthy of their profiles, and earned my respect as people.  Thank you to the girl who would burn 1,000 calories a night running scoring summaries all over the press area.  Thanks to the stats guys, the television broadcast team, and Scott Jones.  Carlos Spinner, put that camera down and heal up. 
I really hope this team comes back next season because these games are an event and those who attended appreciated the promos and dancers and watching a guy pick his nose on a big screen for a whole minute.  There were memories attached to anyone who attended.  Owners, if you are reading this, the demand is there, the right people are in place, and next year will be a playoff year. 
Probably the most racist thing WWE (WWF at that time) ever released.  Ironically, the WWE released Tony Atlas from his role as Mark Henry's manager on ECW in June.  Atlas has been down and out in a classic story of a wrestler that went from the headlines to the bread lines in record time. 
Football season is closing in fast.  Training camps are set to open this week and exhibition games start within two weeks.  Who will be the man at QB for Cleveland?  Derek Anderson or Brady Quinn?  I am fired up for the NFL this year.   I picked Buffalo for the 33 pool I get in, and the reason that is good is because I have to root for whoever is playing against Buffalo to score 33 points every week, cool considering their defense sucks.  Here are some great stories from other sites:
The Mahoning Valley Scrappers returned home from a five game road trip to post a 4-0 victory over the Williamsport Crosscutters.  The first game of the short two-game homestand against Williamsport was highlighted by the great pitching of Scrapper starter Marty Popham.
Popham pitched five solid innings, racking up nine strikeouts and yielding only three hits, to lead the great pitching performance displayed at Eastwood Field.
The Scrappers got on the board in the third inning on an RBI-single from Kyle Smith and an RBI-double from Jason Smit for a 2-0 Scrappers lead. 
In the fifth inning, Chun Chen led off the inning with a double and would score on a Kyle Bellows RBI-double.  Ben Carlson's single plated Bellows to close the scoring with the Scrappers in command 4-0.
Austin Adams and Cory Burns pitched the final four innings to preserve the shutout for Popham's third victory of the 2009 season.    The Scrapper trio of pitchers ended the game with 13 strikeouts.
I have a nice profile piece on Scrapper starter Marty Popham to post, but I have to get a good picture of him to go with the piece.  That article will be up real soon.
Smit-O-Meter:  1-4, Double (7), RBI (18), Currently hitting .273 
Some things in life never seem to materialize.  With all of the factors working against the Mahoning Valley Thunder, their 2009 season came to an end on the wrong side of a 63-43 score against the Green Bay Blizzard.  When you add up all of the season-ending injuries, coaching changes, and constant roster moves, it seemed like a nearly impossible task put in front of coaches Chris MacKeown and Brennan Booth.  This game typified what things could have been, as well as, what never materialized.
The Thunder took the opening kickoff and marched 38 yards capitalized by a Tom Zetts to Jermaine Moye 9-yard TD pass for a 7-0 lead, the only score by either team in the first quarter.  Zetts found Pat Clark for a 36-yard TD putting the Thunder up 14-0.
After a Green Bay TD to cut the lead to 14-7, Mahoning Valley's offense took the field on their own 5-yard line.  Zetts fumbled while eluding a furious Green Bay rush and had the ball jarred in the end zone.  Green Bay pounced on the loose pigskin to tie the game at 14-14.
YSU Alum and Mineral Ridge graduate Brian Palmer kicked a 45-yard FG tying a franchise record to give the Thunder a 17-14 lead.  Palmer had three FG's on the night (45, 35, 22) and made all but one extra point.  He also had a great night kicking the ball off.
On the very next possession, Green Bay QB and former Cincinnati Bearcat, Gino Guidugli found his favorite target Nate Forse for a 47-yard touchdown putting the Blizzard back on top 21-17.
Mahoning Valley responded as Moye caught a pass from Zetts and made a great run-after-catch to slip into the end zone and put Mahoning Valley back on top 24-21.
After another Green Bay drive and TD, Palmer kicked a 35-yarder to cut the Green Bay halftime lead to just one point at 28-27.  The first half was a perfect example of what could have been for the Thunder's 2009 season.  They played with fire and intensity, minimized mistakes, and were playing dead even with a 9-6 team.
Unfortunately, any level of American football plays two halves.  The Thunder jumped on top riding another Palmer kick from 22 yards to take a 30-28 lead.  Green Bay scored the next two TD's and had a 42-30 lead in the fourth quarter.  The Thunder tried to battle back as Zetts found wide receiver convert Frashon McGee for a 27-yard TD to cut the lead to 42-36.  Unfortunately, the Thunder got no closer than the six-point deficit and went on to lose 63-43.  The last Thunder TD came on a 31-yard pass from Zetts to McGee.
Tom Zetts finished the game 20-43 for 272 yards and five TD's.  Jermaine Moye led Mahoning Valley with 8 catches for 108 yards and two TD's.  Gino Guidugli was 23-32 for 271 yards and 4 TD's for Green Bay.  Turnovers played a big role in this game as Mahoning Valley coughed it up three times compared to Green Bay's one.
There will be plenty more Thunder coverage over the next couple of weeks including a season summary I will be compiling.  There will also be a feature on Christian Aleshere and Anthony Farris, the voices of the Thunder.  I interviewed seven people including an owner, Tim Chesney, after the game about the future of this team playing in Youngstown again next season – look for bits and pieces coming soon!
The newest gimmick to boost ratings on Monday Night Raw is to have a guest host who will serve as an on-air commissioner, matchmaker, and celebrity presence.  This week's guest host is Shaquille O'Neal.  I got to thinking about some people who would want to run with the ball in this capacity and have designed a Top 10 list of potential hosts.
#1 Dana White
Dana White would be my choice for #1 guest host.  After what Brock Lesnar did at UFC 100 proves that anyone can leave the WWE, but the WWE never leaves anyone who was there.  There could be some real heat to have White come out and blame McMahon for all Lesnar said and did.
#2 Don King
Don King is one of the most unliked sports promoters ever.  Wouldn't it be great to see King in the WWE?  He could come out to some grand entrance, run his mouth for about ten minutes while trying to use as many three or more syllable words as often as possible.  Would be great TV!
#3 Howard Stern
The self-proclaimed "King of All Media", Howard Stern, would be a great choice for McMahon.  Not only will he draw huge numbers in viewership, but he will talk about it on the air for four weeks in between Robin Quivers G-Cups and Artie Lange's DUI.  Any Stern fan knows that the show still rocks but that Howard has mellowed a bit through the years.  What better opportunity to regain his edge.
#4 Joseph Jackson
Another guy who can chirp to the masses under any circumstances is Joseph Jackson.  Maybe the WWE will install a segment where the loser gets beat with Joseph's belt if he loses.  They could even take five random wrestlers and have Joseph whip them into shape to perform a Jackson 5 classic at the end of Raw.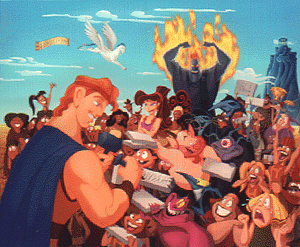 #5 Hercules
The original steroid abuser, Hercules, can teach the boys a few things about rationing the supply to get past the age of 40.  He could also beat up anyone on the Raw roster who will not comply.  Hercules was a McMahon if you do the geneology correctly.
#6 Michael Phelps
Who better to pass the bong with than Phelps?  The WWE is notorious for their wild drug abusing personalities.  I could see Randy Orton and Jeff Hardy lighting one up under the ramp before a main event.  It wouldn't hurt their careers any.  Look at what hanging out with Michael Phelps did for the career of Braylon Edwards (17 drops in 2008, led the league).
#7 Erin Andrews
Erin Andrews is currently living out her WWE fantasies muired in controversy.  The peephole video was nothing.  When Andrews gets her opportunity to be the guest host of Raw, she will surely go over the edge to get the heat off of that silly internet video which has recently surfaced.  She will face Steven A. Smith in a steel cage match filled with racial overtones, wardrobe malfunctions, and guest referee Joe Namath.  Can you imagine the numbers?
#8 Donte' Stallworth
Stallworth would probably do the WWE hosting gig for a dollar.  The reason I say a dollar is because it is income considered work so he can leave the house.  Of course, arranging for transportation and the post party are thing Vince McMahon will have to iron out.
#9 President Barack Obama
Seriously, how cool would it be for our President of The United States to host a wrestling program?  Obama has already proven that he is a normal guy to an extent and he does television appearances frequently.  This may be the most accurate guess on the whole list.  Don't be suprised!
#10 Charles Barkley
Barkley would be a perfect fit for the WWE.  Never short on opinion or the cockeyed reasoning to back up his opinions, Sir Charles could feud with Jim Ross and the rest of the announcers about the way they handle the mic.  It would be a monumental Raw to see Barkley calling the shots.