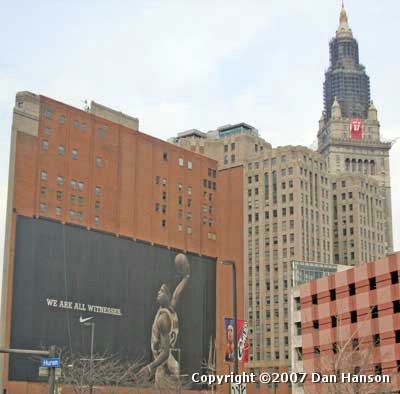 Lebron James was the hero Friday night, hitting a three with one second left against Orlando to further his rapidly growing legacy.  Cleveland sports have been one failure after the next for over half of a decade.  These kinds of plays usually happen against Cleveland teams.  For years, this areas sports fans have had to endure memories of Michael Jordan hitting a shot over Craig Ehlo, John Elway and "the drive", the Florida Marlins unlikely burst in the World Series… Sigh.
I cannot remember a bigger play in Cleveland sports history.  Usually the person Cleveland fans have banked on to deliver in the clutch comes up with some new and bizarre way to stun fans into waiting for next year.  The shot that Lebron made only won one game, but being down 2-0 heading back to Orlando would have been much tougher.  I sincerely feel those nine days off take a team out of "game shape".  It got obvious in the third quarter of games one and two where the Cavs blew huge leads.
Yesterday I went to The Eastwood Mall in Niles.  It was pretty crowded and I could not believe the amount of people I saw wearing #23 Cavs jerseys.  People in this area who have rooted for Cleveland teams have waited a lifetime for that moment.  24 years ago, had I went to the same mall, I am sure I would not have seen Ehlo jerseys everywhere.  The other thing that impressed me was the window display of every sporting goods store was flooded with Cavs merchandise.  I asked clerks at a couple of the stores if they redid their displays this morning and unanimously was told, "no, we haven't touched that window display for months".
If Lebron can continue his heroics through the finals and secure a championship for the city of Cleveland I am not sure what to expect.  I do know that Cleveland fans everywhere are zoned in.  With a championship, Lebron James can carry over 50 years of grief to the dumpster.
3 Responses to "Lebron James : Carrying 50 Years of Grief To The Dumpster"