The running of the 135th Kentucky Derby takes place this Saturday.  The mile and a quarter race has a set post time of 6:24 PM and a field of 20 horses to pick from.  Here is the complete field in starting gate order, jockey, and opening odds:
West Side Bernie (Elliott)  30-1

Musket Man (Coa) 20-1

Mr. Hot Stuff (Velazquez) 30-1

Advice (Douglas) 30-1

Hold Me Back (Desormeaux) 15-1

Friesan Fire (Saez) 6-1

Papa Clem (Bejarno) 20-1

Mine That Bird (Borel) 50-1

Join In The Dance (DeCarlo) 50-1

Regal Ransom (Garcia) 30-1

Chocolate Candy (Smith) 20-1

General Quarters (Leparoux) 20-1

I Want Revenge (Talamo) 3-1

Atomic Rain (Bravo) 50-1

Dunkirk (Prado) 4-1

Pioneer Of The Nile (Gomez) 4-1

Summer Bird (Rosier) 50-1

Nowhere To Hide (Bridgmohan) 50-1

Desert Party (Dominquez) 15-1

Flying Private (Albarado) 50-1
I have a theory on a race with this many horses running – bet the underdogs.  The reason I feel this way is because a field of 20 horses makes coming around the turn and down the stretch an additional unrehearsed challenge.  It is hard to maneuver a horse through that much traffic without getting boxed in or having to go so wide that you lengthen the race for the horse.  So my advice for this race is to use a favorite that wont pay much and put him with two underdogs.
Another rule I need to follow, at least for this derby, is to eliminate the 17, 18, 19, and 20 horses.  Desert Party, the 19 horse, has a shot but I feel that as a closer the horse needs a narrower field.  The other of these three horses are all 50-1 and starting outside isn't good news for any of them.
I like the favorite to finish in the top three.  I Want Revenge, at 3-1, is a solid bet.  Since there isn't much money to be made I want I Want Revenge to finish third in my box trifecta.
My pick to win the race is Hold Me Back.  At 15-1 this is a horse that closes in 6 1/2 furlong races, shorter than The Derby.  Using this logic, I am hoping that the horse has enough in the tank to use that kick down the stretch at Churchill Downs this Saturday. 
The weather forecast for the race calls for a 30% chance of rain and temperatures in the low 70's.
Predicted Winner: #5 Hold Me Back
Trifecta Prediction: 13 – 5 – 11
Let me know what you think! 
The 13 horse and favorite, I Want Revenge Is Probably Going To Get Scratched.  If this is the case, then I like the 5-6-11 box trifecta.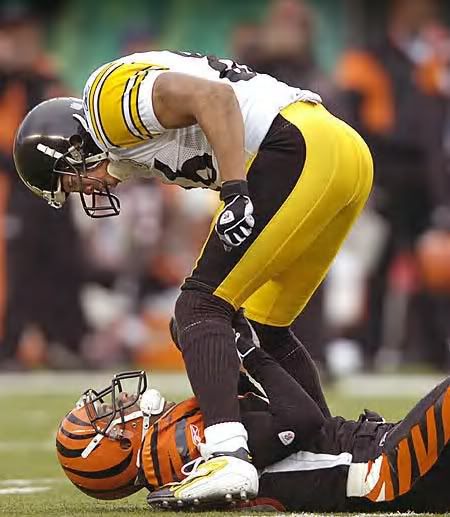 Here are some stories from other sites worth checking out!
Never-Say-Die Red Sox * Josh Q. Public
Did The Hornets Give Up On Chris Paul? * Talkhoops
The Steelers Love Fake Super Bowl Celebrations * PSAMP
Mike Golic of Mike And Mike Waxed – ESPN Video * NESW Sports
President Obama Shoots Some Hoops With UConn Women * Total Pro Sports
Tales Of March Madness And Vegas * Sharapova's Thigh
Charles Barkley Drunk, Calling Kevin Garnett * Hoop Doctors
Surfers Make Documentary In Ireland.. In The Dead Of Winter * Steady Burn
Romanian Soccer Coach Beats Up One Of His Players * Sports Rubbish
Ron Artest Says Brandon Roy Is Better Than Kobe * Lakeshow Life
A-Rod Could Be Back With Yankees In Ten Days * FOX Sports
Kentucky Derby Picks * Joe Cool & The Outfield
Garnett's Attitude Sucks * A Stern Warning
Did Rasheed Wallace Ask For A Buyout To Join The Cavs? * Motown String Music
Jacoby Ellsbury Steals Home * The World Of Isaac
Enjoy All Of These Great Stories!
Bruno Sammartino was often referred to as a "Living Legend" throughout his illustrious career.  Sammartino was the Hulk Hogan of the 70's, the WWE's top dog.  He held the WWE heavyweight championship thoughout a majority of the seventies.  Back then, there was only one championship belt.
Sammartino turned to commentary with Vince McMahon Jr. in the early eighties for a couple of years.  Unfortunately, he and McMahon could not agree on his role with the company, and Bruno left mad.  He still dislikes Vince McMahon and refers to him as "the promoter who used to do steroids himself".
In the above clip, Sammartino is interviewed live at Madison Square Garden by "Rowdy" Roddy Piper.  The video quality sucks but the audio is worth a listen as Piper calls Sammartino a WOP – a racial term used against Italians meaning With Out Papers.  I bet nobody could use that word today.  Anyway, it is a pretty entertaining clip and you could tell that Bruno would not have fit well in today's "attitude" and storyline world of wrestling.
Here are 5 matches I would love to have seen against todays top guys:
Bruno Sammartino vs Kurt Angle.  This would be like the battle of Pittsburgh.  Both of these guys were superior amateurs and it would truly be a good wrestling match without the need for todays gimmicks.

Bruno Sammartino vs Jeff Hardy.  Can you imagine Sammartino trying to sell the "Twist of Fate"?  McMahon would probably make hardy jump off the roof or something crazy to get a clean pin, but what a neat contrast of styles.

Bruno Sammartino vs Santino Marella.  This would be entertaining only if Santino had the microphone for a few minutes before or after the match.  The Italians used in wrestling are usually only one per federation when branded as an Italian.

Bruno Sammartino vs John Cena.  I would love this.  Cena is always acting respectful to the veterans and really does know who to thank for his successes.  What would prevail?  Cena's "You Can't See Me" or Sammartino's "You Can't Understand Me".

Bruno Sammartino vs The Big Show.  Somehow the writers would find a way for Bruno to win this one.  He would match power even though he is a foot and a half shorter than show.  Really, Bruno is only slightly taller than Rey Mysterio.  
 Bruno Sammartino was the guy.  Wrestling in the 1970's was so much different than today.  There were hardly any wrestlers jumping off of the top rope, there were very small storylines, and the blue collar wrestler was the champ.  It should also be noted that there were not nearly as many wrestlers from this particular era on steroids.  One bulging example was Superstar Billy Graham.  In the last 10 years, 104 wrestlers have died before the age of 50, meaning they competed in the eighties, nineties or in the last few years.  Sammartino is still very vocal about the use of steroids in this sport and has appeared on Larry King, Phil Donahue, and other talk shows pointing the finger at one guy — Vince McMahon.
The Cleveland Browns 2009 Draft Class was a bunch of things.  The Browns were wise to trade their pick to The Jets.  Think about it, Mark Sanchez was something they did not need and Michael Crabtree was someone they did not want.  Made good sense to me to get an extra pick and a few players.  Who knew what players to get from The Jets better than Eric Mangini since he coached them last year.
Here is a complete list of what the Browns did:
Alex Mack, C, Cal (1st Rd., #21)

Brian Robiskie, WR, Ohio State (2nd Rd., #36)

Mohamed Massaquoi, WR, Georgia (2nd Rd., #50)

David Veikune, LB/DE, Hawaii (2nd Rd., #52)

Kaluka Maiava, LB, USC (4th Rd., #104)

Don Carey, CB, Norfolk State (6th Rd., #177)

Coye Francies, CB, San Diego State (6th Rd., #191)

James Davis, RB, Clemson (6th Rd., #195)

Players obtained in Jets trade – QB Brett Ratliff, S Abram Elam, DE Kenyon Coleman

Also have Graham Harrell signed.
Overall, the Browns did a good job filling their biggest needs.  I think they took Robiskie a bit soon.  He will never be an impact wide receiver in the NFL.  Look for him to be more of a Joe Jurivicius type third down possession receiver.  Massaquoi is the big play guy.  It is odd for a center to be taken in the first round, but Alex Mack is head and shoulders above the other centers available in this years crop.
Overall Grade: B-
Busy week and more to come!  Here are some great stories from friends to help catch you up!
Kevin Garnett: Got The Ring, Still No Class * PippenAintEasy
Pad Harrington Uses Happy Gilmore Swing For Better Drive * Total Pro Sports
Matthew Stafford Top Ten From David Letterman * Sports Rubbish
Even The Ref Can't Stop Kobe From Scoring * Hoop Doctors
Who Is Currently The Best Player In Baseball And Can He Be An All-Time Great * Sports2Debate
Lebron And Kobe New Vitamin Water Commercial * Docksquad Sports
Lebron For Pope * The Legend of Cecilio Guante
John Salley Is Calling Technology His Crack * NESW Sports
Arizona Cardinals Cut Edgerrin James * FOX Sports
Rowdy Roddy Piper Shockproof Vests Are In Style * Hugging Harold Reynolds
Ryan Braun Still Mad About Getting Hit With A Pitch * True Blue Brew Blog
Paul Pierce Finally Shows Up * Josh Q. Public
Mr. Irrelevance is Gaining Revelance * Moondog Sports
Eric Wedge Really Should Bite Someone * Tribe Daily
DVD Review: Fever Pitch * Baseball Reflections
Why Does Everyone Seem To Love Ned Colletti? * Sharapova's Thigh
Videos Before Bedtime: NHL Highlights * The Program
Thanks for checking in!
Talking to Mike Hold after this past weeks Thunder game was disheartening.  I felt bad for him because he could not seem to put his thumb on why the team looked like it was in a daze at times.  The Thunder management has fired Hold , 11-26 in two plus seasons, saying that it felt like the organization needed to make a change on the field in order to get things moving in the right direction.
Hold will be replaced by Defensive Coordinator Brennen Booth.  Booth has boatloads of experience coaching football, mostly in arena leagues and will serve on an interim basis.  The Thunder hired Andy Kelly, former Tennessee quarterback to take over as offensive coordinator.  Kelly was awesome as a Vol QB and ranks among the all-time best in their record books. 
The Thunder play at Albany this weekend.  The Firebirds are 0-5 this season and lost to The Thunder 44-34 in week one.  It seems like a logical game for Coach Booth to get his feet wet and hopefully secure a win.
Finally!  I am happy to present my interview with Jack Loew.  Loew is the trainer of Kelly Pavlik.  Loew also trained Billy Lyell for his upset win over John Duddy last Friday. 
In this piece, Loew talks about his stable of fighters and who to watch for.  Why the Bernard Hopkins-Kelly Pavlik fight should have been cancelled, steroids in boxing, what is in the future for Kelly Pavlik, and why he is having so much fun doing what he does.  Loew also discusses why the Pavlik camp wants Arthur Abraham so bad, as well as a potential Joe Calzaghe fight down the road.
Big shouts go out to Bud and Paula McLaughlin at Lifetime Video, and to Isaac from The World of Isaac  who helped me get the video online!
Watch Interview with Jack Loew in Sports  |  View More Free Videos Online at Veoh.com
Niles, Ohio native Billy Lyell beat John Duddy Friday night in a split decision.  The judges who scored the close fight were Tommy Kaczmarak (97-93 Lyell), Lawrence Layton (96-94 Duddy), and John Stewart (98-92 Lyell).  The huge upset vindicates Jack Loew who was accused earlier in the week of using the Lyell fight to scout Duddy for a potential future fight with Kelly Pavlik.  Looks like Jack Loew already had him pretty well scouted.
Lyell improved to 19-7 and has finally gotten a win which he can build on.  Duddy, 26-1, 17 KO's was criticized for trying to box more than land big punches, which were his bread and butter in the past.  Loew was quick to point out that Lyell had eight full weeks to prepare for this fight and that the hard work paid off in a big way. 
Personally, I am thrilled that Lyell beat Duddy because it not only boosts him into the top 15, but saves all of us having to watch Pavlik dispose of Duddy.  I am also particularly happy for Jack Loew, who proved to his critics that he is not a one trick pony.
My interview with Loew will be hitting the website no later than Wednesday.
The Tulsa Talons rolled through Youngstown and left with a convincing 66-30 victory over The Mahoning Valley Thunder.  The Talons got 9 touchdown passes from Justin Allgood and WR/KR Jeff Hughley racked up 216 all-purpose yards.  To make the loss worse, Mahoning Valley has some real issues at quarterback.  Starter Blake Powers jammed his shoulder and was forced to leave the game.  "I got hit pretty hard and it just sent a shock up my arm", Powers told me after the game.  Replacement Davon Vinson was just plain ineffective the majority of the time he was in.
The game started promising enough as The Thunder took the opening kickoff and scored on a Powers 23-yard pass to Quorey Payne.  Tulsa jumped ahead 20-7 on three Justin Allgood touchdown passes.  With the score 20-7, Quorey Payne took a kickoff all the way back for an apparent touchdown.  The points were denied due to an illegal block in the back.  The big momentum shift really hurt The Thunder.  "Anytime a big play like that gets called back, it hurts us bad", said Payne.
Tulsa blew coverage on a Powers to De'Tario Frederick 27-yard TD.  There was no defender 20 yards near Frederick as Powers got an easy one.  After an exchange of quick touchdowns, Derek Shorejs kicked a 32-yard FG with no time left in the half to cut The Talons lead to 38-23.
Tulsa scored to make the score 46-23 on another Allgood toss of 18 yards.  On the ensuing drive and The Thunder on Tulsa's  three yard line, Powers tried a keeper to the left and got planted, shoulder first, into the Cortland Banks Field turf.  Powers finished the drive, but would not return with a bruised shoulder.  Tulsa scored the games final twenty points to make the final score 66-30.
When Davon Vinson took over for Blake Powers, the offense really looked out of sync.  Powers spent most of the first three quarters running for his life and really took a beating.  Vinson could not seem to do much to contribute to the offense.  He too, had a lack of protection, but when he could get a pass off, it was usually thrown poorly.  Vinson also coughed the ball up on The Talons one yard line.
Thunder Coach Mike Hold was disappoined with his teams performance.  "It is really disheartening to go through practice all week thinking we have a chance, only to come out like this.  We need to re-evaluate some things and keep trying."  Coach Hold knows that his Thunder team can put forth a better effort and stressed how crucial turnovers can be when playing a team the caliber of Tulsa.  "You can't get away with turnovers and mistakes against a team like Tulsa, it always ends up coming back to get you and we couldn't stop them or move the ball.  We need better consistency on both sides."
Tulsa Coach Mitch Allner praised the toughness of The Thunder saying that the score didn't indicate how close of a game it was and that he was happy with the performance of his team.  "We were fortunate to create a few turnovers and capitalize on them when we needed to."
The Thunder threw three interceptions, two to the Aaron's Defensive Player of The Game, Pierre Thomas.  "Pierre made a couple of great plays for us tonight.  He used the schemes that we worked on in practice to have two very important takeaways for our team tonight", said Allner.
The Thunder travel to New York to face The Albany Firebirds next weekend.   I will be writing another Thunder article this week about all of the great stuff that happens when play is stopped and the reaction the fans have to the giveaways and contests.  Look for my Albany preview here on Friday!
The girls in my class hated it, the boys in my class could not wait for it.  Some of the activies we did (for a grade) are not even allowed anymore.  The feel and smell of that maroon rubbery kickball is nostalgic, almost magical. 
My gym teacher was a good man.  His name was Dick Williams.  Mr. Williams was a nice guy, the head basketball coach for years, and a phys ed teacher any boy would love to have, and any girl would wish against getting.  What made Mr. Williams' gym class so interesting was that he looked for athleticism in his students.  No matter what the activity was, two people were asigned to be captains and then they would pick teams.  The same people were picked in almost the same order no matter what the activity was. 
Without further ado, my top and bottom 5 gym class activities:
T O P
Dodgeball.  We have seen the movie but it does no justice to the real game.  In 1983, my sophomore year, you were encouraged to throw the rubber kickballs at your opponents no matter where you hit the person.  If you got hit really hard, it would sting for a bit, but everyone lived.  Unfortunately, the game is now taught with Nerf balls that float and you can only hit people in the legs.

Kickball.  Indoor kickball rocked!  The rules seemed to change every single time we played.  If you hit the ceiling you were out.  Again, the maroon rubber ball was used and you could nail the runner at any body part to record an out. 

Basketball.  Seemed like every Friday, Mr. Williams would come out with a basketball and we would pick three teams and just play full-court pickup games to 11.  The co-ed factor slowed the games a bit, but we knew what we would be doing every Friday.

Whiffle Ball.  Another sport replaced with nerf balls.  Same as kickball, the ground rules varied from game to game.  The bleachers were an out, The far wall was a home run, the ceiling was an out.  We even used to be able to throw whiffle balls at girls to record outs.  "So Jeanne, are you going to come with me to the sweethearts dance? Oh, I didn't know you had a date…"  POW, Jeanne gets drilled in the thigh as she tries to get to first.  It was deviance with permission at its absolute best.

Artillery.  This was a variation of dodgeball using up to seven kickballs at the same time.  This was the best way to make the nerd who ruined the curve in Algebra cry.  Three guys would hold a ball and decide he was the target.  All at once, three kickballs going at least 40 MPH would drill the little genius.  Curve ruiner would almost always end up in tears.  Needless to say, this game is history.
W O R S T
Square Dancing.  I was never the dancing type and to this day am not a huge country music fan.  I don't drive a truck, I have all my teeth, and I do not drink, hence no country music.  Even though this activity would only last a couple of consecutive days, I despised it.  I hated dancing like I just killed a deer and left the bar with his bloody antlers in my hands.
Normal Gymnastics.  There were the vaults over a pommel horse, the balance beam, and my all-time most hated activity, tumbling.  I was pretty big in high school.  At about 6′, 240, the last thing I wanted to do was a cartwheel in front of the cheerleaders in my gym class. 
Scooter Races.  Again, as a big guy in high school I had to swallow my pride to sit on a one foot wooden square with wheels under it and race around like a hamster.  This could easily be number one on the worst list, but I did ok with it.  I think Mr. Williams would have these races from time to time just so he could say the class was well-balanced.
Running.  Shocked me the day when I came out of the locker room dressed in my gym clothes to learn we were going to go outside and run up a hill.  I faked every illness in the Red Cross handbook, but Mr. Williams made me anyway.  This was a way for the skinny geeky kids and track stars to excel and left the door open for basketball and dodgeball for us normal folks.
Volleyball.  To this day I hate playing this sport.  All the guys wanted to be on the front line to spike the ball toward the other team, ala dodgeball.  Unfortunately we learned that the only people who were any good were the girls from the volleyball team.
The one sport I still enjoy is golf.  We never did much golf training in gym class.  Mr. Williams is still a very avid golfer, so I am suprised it would never come up.
All-in-all gym class was usually a pretty good time.  I miss it and maybe when we have our 25th reunion, I will see if I can locate a maroon rubbery kickball and see who wants to go out in the parking lot to have at it.